Estimated read time: 2-3 minutes
This archived news story is available only for your personal, non-commercial use. Information in the story may be outdated or superseded by additional information. Reading or replaying the story in its archived form does not constitute a republication of the story.
SALT LAKE CITY -- A Salt Lake City man plans to go boldly where lots of people have gone before, but he hopes to do it faster than anyone else has ever done it.
Beginning on Labor Day, he plans to walk across the entire United States in 53 days.
Every journey begins with a single step, even if it eventually takes 6 million steps. Matt Livermanne starts his walk for a world record Sept. 6. For a warm up he's asking the public to join him next Saturday, when he trains from dawn almost to midnight.
He's already worn out 20 pairs of size 9 shoes since he started training in January.
---
Just one step at a time, one foot in front of the other. I don't think about the whole race, only think about a mile at a time.
–Matt Livermanne
---
"I started only doing 15 miles a day and then worked my way up to close to 300 miles a week," Livermanne says.
Livermanne has set an ambitious goal. "Well, I have two marathons a day for 50 straight days," he says.
That's the plan -- walking instead of running, 60 miles a day for nearly two months.
"Just one step at a time, one foot in front of the other," Livermanne says. "I don't think about the whole race, only think about a mile at a time."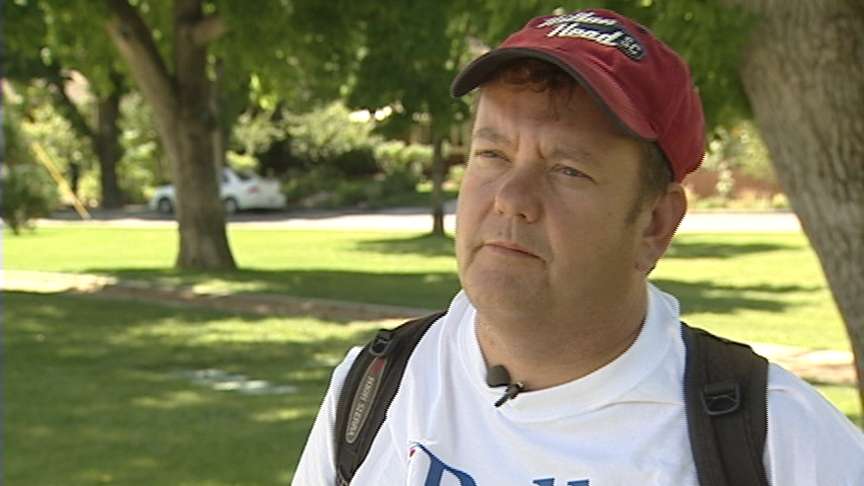 It's a race against the clock and the calendar. Starting on Labor Day, walking from New York to Los Angeles, he hopes to beat the old world record: 53 days, 12 hours, 15 minutes.
When he tells people about it, they tend to be skeptical.
"A lot of them think I'm crazy and I said, 'Well, I'm committed.' Or at least should be," he says.
He's actually committed to a cause, raising public awareness about childhood obesity and raising money to revive physical education programs.
"Early 90s they cut a lot of the elementary school PE programs and recess programs out because they said it was too expensive," Livermanne says. "So a lot of schools are trying to figure out how to put them back in, but they're trying to figure out how to do it budget wise."
Livermanne started walking seriously after he was laid off last year from his job at a convenience store. But he says he's always been a walker.
"I've pretty much never had a vehicle, so my only vehicle, transportation, was my 'nines,'" he says. "My nine shoes."
Livermanne has been doing a lot of training in Liberty Park, but lately he's been getting out more. He regularly walks from downtown Salt Lake City to Lehi and back.
He's walked Wendover to Salt Lake, and Salt Lake to St. George. It sounds like a lot, but he says he's just getting started.
For more information on Livermanne's "Big Fitness Walk" [CLICK HERE].
E-mail: hollenhorst@ksl.com
×
Related links