Estimated read time: 2-3 minutes
This archived news story is available only for your personal, non-commercial use. Information in the story may be outdated or superseded by additional information. Reading or replaying the story in its archived form does not constitute a republication of the story.
SALT LAKE CITY -- Social networking is all the rage, and even grandparents have been getting in on the action. Now more seniors are jumping on the "texting train," but it's not just about keeping up with the grandkids.
It seems like everyone is texting these days. Dorothy Smiley, for example, is one of the "hip" grandmas floating around the Sandy Senior Center.
---
When the kids started texting me then, duh, I had to answer them back.
–Dorothy Smiley
---
"It's fun. It really is fun," Smiley says.
She credits her grandchildren for getting her hooked on texting.
"When the kids started texting me then, duh, I had to answer them back," she says.
Heather Cain got her grandmother to start texting.
"We kind of had to sit down with her and show her how it works," Heather says. "She's got, like, jams on her phone and stuff."
While more seniors still prefer to e-mail rather than text, cell phone providers say that's definitely changing.
"Not everyone has access to e-mail on their handset, but text messaging -- absolutely!" says Sprint representative Beth Lucker.
Ron Smith, who is shopping for a new phone, readily admits he's "old school."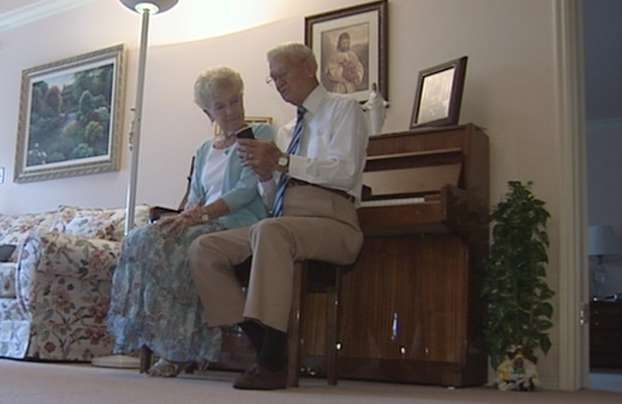 "The grandkids text me, but I don't text back," he says. If I need to talk to them, I just call them. They understand I'm a grandpa, and grandpas don't text."
But don't tell that to grandpa John Sonnenberg. He's been texting for years.
"I text everybody, everybody that's got a cell phone," John says.
While John is texting to keep in touch with the family, his wife, Joyce, is learning how to text for an entirely different reason.
"Losing my hearing has been devastating, because I've always been in the know and been able to communicate," Joyce says.
Up until now, Joyce has been using a CapTel phone -- which converts the caller's voice to words on a screen -- but that's only when she's home. Texting offers her new freedoms.
Another aspect of text messaging that seniors seem love: getting pictures sent to them so they can show them off to their friends.
E-mail: shaws@ksl.com
×
Most recent Utah stories