Estimated read time: 2-3 minutes
This archived news story is available only for your personal, non-commercial use. Information in the story may be outdated or superseded by additional information. Reading or replaying the story in its archived form does not constitute a republication of the story.
Dina Freedman, KSL Meteorologist Thousands of honeybees have been leaving their hives but the problem is that they aren't coming back. It's called the colony collapse disorder, and it's affecting hundreds of thousands of bees. These bees are mysteriously vanishing into thin air!
You might not like it when you get stung, but the honeybee is an essential part of our food chain, pollinating up to 90 different crops we and other animals eat.
According to Red Butte Garden Horticulturist Faye Rutishauser, "If bees do not pollinate the flowers, then the fruit is not produced. You'll either have no fruit produced or smaller fruit. Without them we're going to go without a lot of good things in our diet."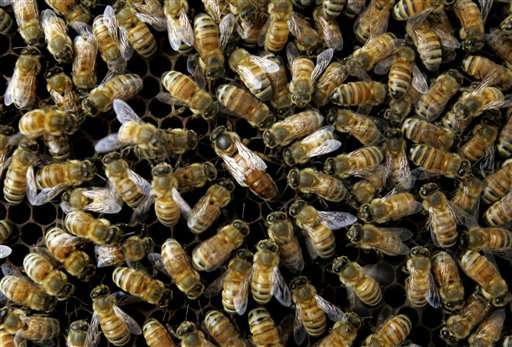 The USDA says that colony collapse is happening in the state of Utah, and that could present some new challenges for beekeepers this summer. Salt Lake County Bee Inspector Danielle Downey says, "The reports from around the country is that beekeepers are losing on average 25 percent of their colonies...so the symptoms are the queen is in the colony with a few workers, and the rest of the foragers seem to have left and never come back."
Honeybees have sophisticated navigation systems, and they're social, so for them to not come back to their hives has scientists baffled. Downey explains, "In Europe a few years ago there were similar bee losses, and we don't know if it's the same cause. It could be a virus, we don't know yet."
It's estimated that one-third of our diet comes from food that bees pollinate, that's one in every three bites!
Survey entomologist Clint Burfitt says, "On a given year we expect about 25,000 to 30,000 bee colonies in the state of Utah, and we've got about 250 registered beekeepers."
Each one of those colonies holds tens of thousands of bees, and this summer they could all be affected by this mysterious disorder. They really aren't sure on this one if it's a bee nutrition or diet issue, a pesticide, a virus or something else suppressing the bees' immune systems.
For more information about what could change the way of American Agricultural practices, follow the links at the right.
×
Related links
Most recent Utah stories