Estimated read time: 2-3 minutes
This archived news story is available only for your personal, non-commercial use. Information in the story may be outdated or superseded by additional information. Reading or replaying the story in its archived form does not constitute a republication of the story.
SALT LAKE CITY -- The FBI is strongly defending its domestic surveillance guidelines, which are under sharp criticism from civil liberties and Muslim groups.
One group and its affiliates around the country Tuesday filed coordinated requests for government records about the program.
The issue surrounds a set of guidelines called the Domestic Investigations and Operations Guide. The FBI says the program, started in 2008, helps police solve crimes.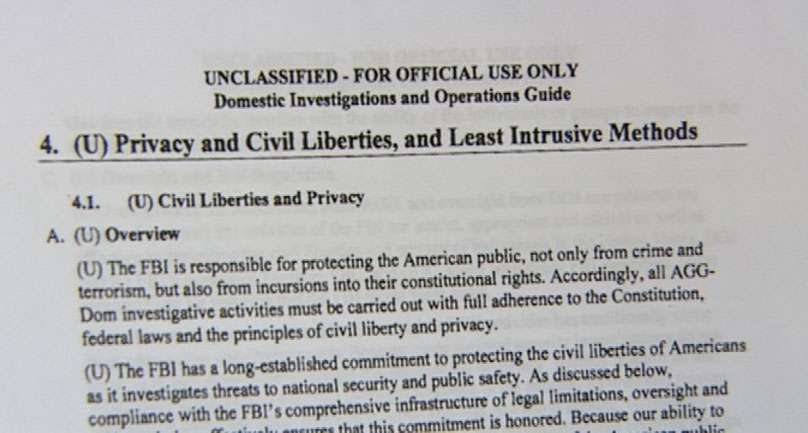 But the American Civil Liberties Union (ACLU) is asking the FBI to turn over records related to the agency's gathering of data about race and ethnicity in local communities, including here in Utah.
The group says according to the guide, FBI agents have the authority to collect data about and map so-called "ethnic-oriented" businesses, behaviors, lifestyle characteristics and cultural traditions.
The ACLU worries the guidelines could lead to unconstitutional racial profiling, a concern echoed by others.
"So right now we don't know how they're going about collecting the information, what information they're collecting, what they're doing with it once they have it and how they're protecting it," said Darcy Goddard, legal director of the ACLU of Utah. "Ultimately, those are things I think we all need to be worried about."
"I think it breaks down the foundation of society and communities to have people feel like they're being targeted," said Theresa Martinez, an associate professor of sociology at the University of Utah. "And I don't know how else you'd be doing that in this way. I mean, they're going to map and track what?"
The FBI office in Salt Lake declined to comment and referred us to FBI headquarters in Washington. Paul Bresson, a spokesman for the FBI, said, "I reject the idea we use the information for profiling ... a law enforcement tool to help solve cases, to identify trends and establish leads to help solve a case whether it be a homicide or mortgage fraud or whatever the issue."
The bureau says its procedures don't zero in on anyone on the basis of race, ethnicity, religion or the exercise of any other constitutional right.
E-mail: jdaley@ksl.com
×
Related links
Most recent Utah stories