Estimated read time: 2-3 minutes
This archived news story is available only for your personal, non-commercial use. Information in the story may be outdated or superseded by additional information. Reading or replaying the story in its archived form does not constitute a republication of the story.
SALT LAKE CITY -- A 93-year-old trumpet player is in hot demand in the valley during the summer holidays -- he can play just about any tune you can think of.
Tuck Marcantonio's story dates back to the 30s. His 80-year journey has taken him to funerals, parades, cruise ships and dance halls. He's been around the country, even around the world.
"I fell in love with it in 1930 and that was my first love all these years," says Marcantonio.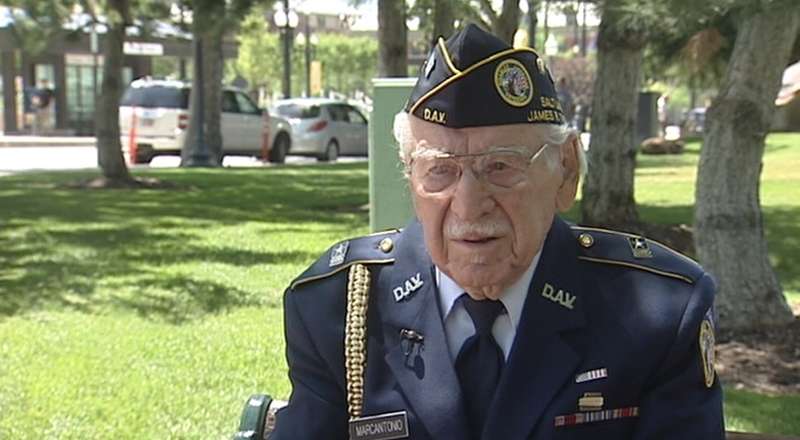 One of his first major gigs as a teenager was playing on the S.S. Paris cruise ship.
"During the Great Depression, [there was] nothing better to do then play on a cruise ship, go to Paris, France -- a free trip," he says.
In the Army, Marcantonio was the lead trumpet player. He was never deployed overseas on general's orders because he was so good.
He's played in more bands and orchestras across the country then he can count.
"I recorded with Al Donahue's Orchestra, that was one of the big bands," he says. "I also played lead trumpet for Isham Jones."
---
I fell in love with it in 1930 and that was my first love all these years.
–Tuck Marcantonio
---
Marcantonio's first wife was from Salt Lake City, and that's how he ended up here. Now, you can find him playing in local parades with the Shriners Band or at funerals with the Disabled American Veterans Honor Guard.
His favorite tune to play: taps. He says it's his strongest piece.
"There might be 100 people at a funeral when I'm playing taps, and 100 people have to listen to me," Marcantonio says. "I have an audience, and I've had an audience all my life."
Marcantonio's wife Lois loves being part of the audience. "He is the best, and I love being married to a musician," she says.
Marcantonio says he has played taps about 200 times a year for the past decade. He has no plans of stopping to catch his breath anytime soon.
"I'm 93 right now and there's not a thing wrong with me. I plan on playing until I just can't do it," he says. "If I'm 110 I might be doing it."
Marcantonio will be playing with the Shriners Band Saturday morning in the Ogden Pioneer Day parade.
E-mail: abutterfield@ksl.com
×
Most recent Utah stories