Estimated read time: 2-3 minutes
This archived news story is available only for your personal, non-commercial use. Information in the story may be outdated or superseded by additional information. Reading or replaying the story in its archived form does not constitute a republication of the story.
Nadine Wimmer reportingWhen you think of pre-school, you might think of graham crackers and naps. But these days, it's become a lot more serious.
In fact, today the State Board of Education reviewed some pre-kindergarten guidelines. These skills can affect a child's learning for years to come.
You've probably heard the phrase "everything you need to know, you learned in kindergarten." Well, educators hope these new guidelines will emphasize that what you learn before kindergarten is just as important.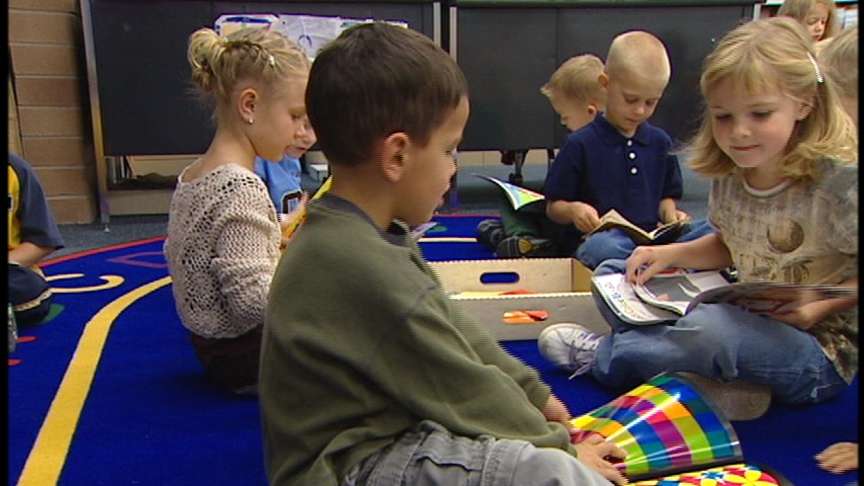 Counting, the ABCs, and social interaction are all skills Janet Newman says a child should have before that first bell rings.
Janet Newman/ Kindergarten teacher: "I've been doing this for 20 years and that's decreasing. I'm seeing a change."
That change prompted the state to put down in writing responsibilities for parents, childcare providers and pre-school teachers.
"Preschoolers are so capable and if we don't take time to interact with them, we are missing a real opportunity to help them in their lives."
Missing that opportunity can be difficult -- for teachers and kids.
"They sense already that they don't know what their friend next to them knows, and that's hard."
Among the proposed requirements-- children should be able to count to ten, recognize letters, know personal information and be able to ask questions. Besides helping preschoolers, getting every child to this level would save the state money.
"For every dollar that is spent in preschool, society conserves seven."
It would also bridge learning gaps that, in some classrooms, span more than five years.
Sarah Yerman/ Education specialist: "Having never used scissors or pencils or crayons, and other children have been gluing and cutting and pasting and being read to since the day they were born."
All skills that, to Mrs. Newman, are an essential foundation.
"They may not be developmentally ready to be successful at that time, but if they have that background, it just clicks and they go."
The guildlines will be presented for public comment and revision. A final draft will then be presented to the State Board in December.
×
Related links
Most recent Utah stories