Estimated read time: 2-3 minutes
This archived news story is available only for your personal, non-commercial use. Information in the story may be outdated or superseded by additional information. Reading or replaying the story in its archived form does not constitute a republication of the story.
Alex Cabrero reporting Does your child own a sports jersey like this? One Utah school is banning them.
"This is something parents shouldn't have to know about, but we're moving into a day and age where they probably should," officials say.
We've all heard of gangs wearing certain colors. Now police say numbers are starting to create a problem. And certain gangs will only wear certain numbers.
If you're a fan of the Chargers' LaDainian Tomlinson, or the Rams' Torry Holt, or the Seahawks' Matt Hasselbeck, your jersey may show allegiances to more than just your team.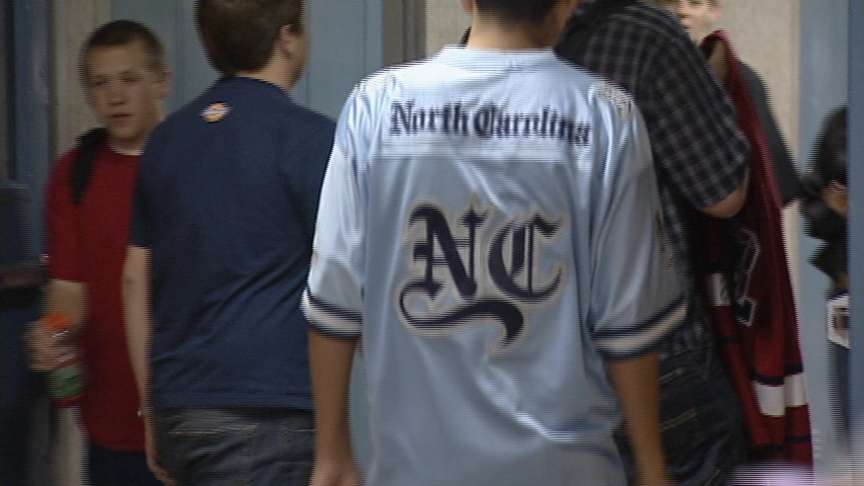 And because of the possibility, Ben Lomond High School in Ogden says, leave them home.
With a loud voice, Ben Lomond High's principal Ben Smith could probably be the football coach. Just don't ask him permission to wear a football jersey inside his school.
Ben Smith/ Principal, Ben Lomond High School: "We're going to cut off jerseys for awhile, or at least until we feel better about the situation."
It's not that he favors one team over another. It's just that he doesn't favor any gangs.
Ben Smith: "A lot of the activity is associated with jerseys, with colors and with numbers."
Imagine being a fan of a player or a team and being in danger because you're wearing a gang shirt, and you don't even know it.
Detective Ashment: "It doesn't surprise me. It's something we deal with on a regular basis."
Detective Ashment is with the Salt Lake Metro gang unit and says, unfortunately, something as simple as a number can put you in danger.
Det. Ashment/ Salt Lake Metro Gang Unit: "It's actually happened across the U.S. Parents will unknowingly get their child a football jersey or a basketball jersey with the wrong number or color on it. Unknowingly, or unintentionally, it can spark problems with an opposing gang member who doesn't like red or blue."
Or a particular number, because it can mean the street you're from, or the end of a certain zipcode.
Even at Ogden's Ben Lomond, administrators have heard about it, which is why they decided to do something now.
Ben Smith: "We just felt like we don't want this to get any bigger than it is. Let's try to be proactive and take care of it as soon as we can."
Of course, some areas have bigger gang problems than others. Police say all this shouldn't stop you from buying your child a jersey. Just be aware and ask him or her why they want a particular jersey.
×
Most recent Utah stories