Estimated read time: 2-3 minutes
This archived news story is available only for your personal, non-commercial use. Information in the story may be outdated or superseded by additional information. Reading or replaying the story in its archived form does not constitute a republication of the story.
Shelley Osterloh ReportingTen or 15 years ago people thought the home computer and the world wide web might mean the demise of books and libraries. But today's libraries have embraced the new technology and are making it even easier for people to access valid information.
Now you can access the Salt Lake County Library system on your own home computer -- searching data bases and downloading audio books or E-books to you PDA. But even coming to the Library has changed, and this one in South Jordan is state of the art.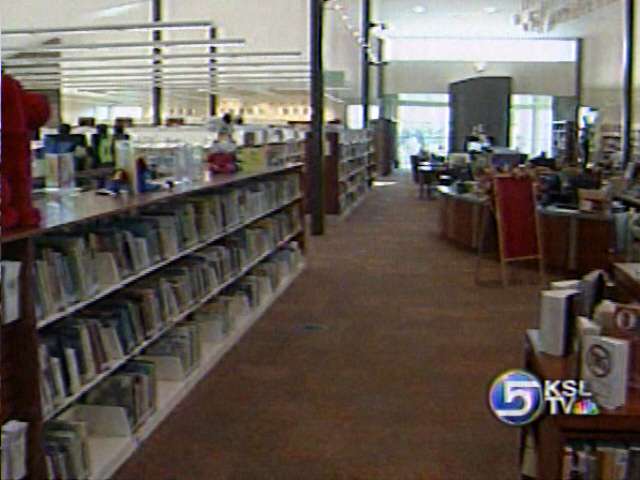 Now even checking out a book is self-service and automated. Returning it is pretty much the same, but look what's really fun is what happens behind the scenes. The books, tapes or discs are carried by conveyor belt under an electronic reader that automatically sorts the items, sending them in to various bins to be returned the shelves. The automated system is quick and efficient.
Phyllis Jones, South Jordan Library Manager: "The advantages to the staff is speed. We are not handling all of the items so you are not getting repetitive motion hand injuries, but for the public it's their own sense of, 'nobody knows what I'm checking out.' It's a privacy issue for the public."
The new South Jordan Library has 20 computers, nearly twice as many items in its collection, and a special area for book clubs discussions with multiple copies for books for club reading. The children's area is decorated with a puzzle theme. Even the door to story telling area is child sized. Everything is designed to make the library an accessible, comfortable place.
Tauni Everett, PR Salt Lake County Library System: "It's cozy, want to browse and sit and read a book actually in the library, instead of coming in, rushing through, and checking out."
There's also a this giant word mobile made up of 600 letters that create about 65 words, all that have special historical significance to South Jordan -- like Redwood Road, names of early families who settled here, and important dates.
The library opens to the public on Saturday with a 10 am ribbon cutting and activities all day long.
×
Related links
Most recent Utah stories