Estimated read time: 3-4 minutes
This archived news story is available only for your personal, non-commercial use. Information in the story may be outdated or superseded by additional information. Reading or replaying the story in its archived form does not constitute a republication of the story.
DRAPER -- A Draper woman is on life support after she was hit by a pickup truck early Wednesday morning. The woman was riding her bike when she was hit.
Two vehicles collided and then crashed into a group of about 10 women bicycling on Highland Drive near 300 East in Draper around 6:45 a.m.
A GMC pickup truck going west on Highland crossed into the path of an SUV going in the other direction and collided with it. Elizabeth "Bunny" Bradley was critically injured when one of the vehicles then veered into the group of cyclists.
Several other cyclists were hit but were not seriously injured, but police say Bunny was directly hit by the vehicle.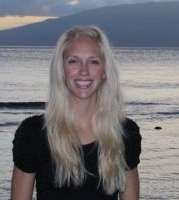 Community support has spread quickly, even on the internet where blogs are asking readers to pray for her. People in her church also began fasting as soon as they heard about what happened.
"Everyone loves Bunny so much," said friend Lori Robinson. "She's the sweetest person. She has everything going for her."
News of the crash spread quickly among friends of 29-year-old Elizabeth Bunny Bradley. At 6 p.m. Wednesday, her friends and fellow ward members poured into an LDS Church in Draper to pray for her.
"I think we're all just here to pray in hopes that comfort for her family and her husband and also to help her through whatever she's trying to get through right now," said Kenzie Hansen, who babysits Bradley's children.
During the morning accident, the pickup involved in the crash lost its front driver's side wheel and drove into the group of cyclists. Three of them had minor injuries, but Bradley was flown to the hospital in critical condition.
"This was definitely a violent impact, one that definitely was traumatic to the other cyclists traveling in the group and the drivers of the vehicles involved in the incident as a whole today," said Unified Fire Authority Captain Clint Smith.
Friends say Bradley is an avid cyclist and loves to exercise. She also teaches pilates at Xcel Fitness in Holladay.
Bradley is also the mother of two young kids, the youngest only 4 months old.
"She's a cute mother. She has two darling kids and a wonderful husband, and I just hope she makes it to be with them," Robinson said.
Police are still investigating why the GMC pickup had crossed into the other lane. It's possible the driver could face charges.
E-mail: syi@ksl.com
×
Photos
Most recent Utah stories