Estimated read time: 2-3 minutes
This archived news story is available only for your personal, non-commercial use. Information in the story may be outdated or superseded by additional information. Reading or replaying the story in its archived form does not constitute a republication of the story.
Jed Boal Reporting The Taylorsville Police Department today added a critical crime-fighting tool with the help of the community. The six-month-old department is off and running with a new K-9 unit.
Officer Chris Walden and his K-9 Rony will train intensively this fall to fight crime in Taylorsville. Today they showed the community what they can do, so far.
K-9's are expensive and the program was out of reach for the young department. Police dogs cost more than five thousand dollars; training and equipment cost even more.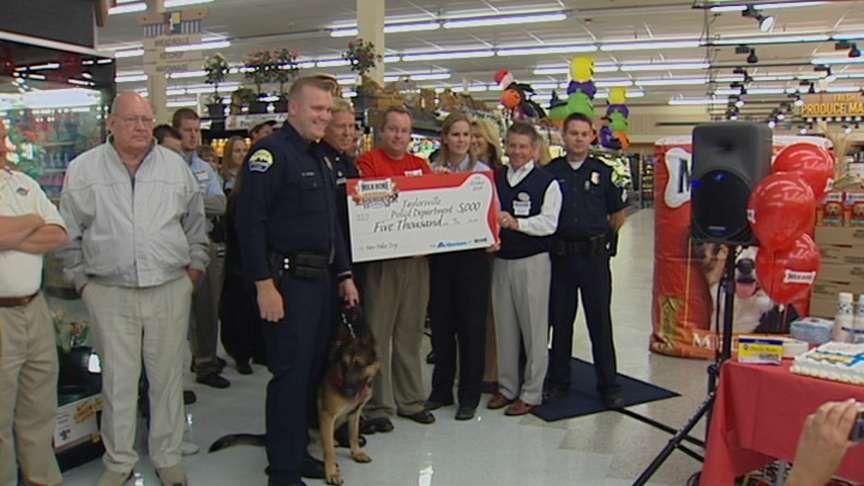 Officer Chris Walden, Taylorsville Police Department: "Once you have the dogs and have the program going, it's very versatile. You can use them in a lot of situations, and hopefully help save a lot of officers."
Milkbone and Albertson's pitched in five-thousand dollars to give the K-9 unit the extra funding it needed.
Larry Marx, Taylorsville Police Chief: "It's like having an extra officer, an officer that has better smell, better sight, has a lot of talent that normal officers don't have."
The police dogs will help their partners search, track armed suspects, and sniff out drugs.
Larry Marx: "In law enforcement it's about tools, using tools and using them wisely. A canine is a very valuable tool."
Later this month two officers and their K-9 partners will take a two-month certification course. Handlers and their dogs live together and grow very close.
Officer Chris Walden: "You want to keep that bond with your dog. They need to be able to listen to you and obey your command, and know that you're in that alpha role."
Walden and Rony will regularly work the graveyard shift when the department gets most of its call-outs for violent crime. All three Taylorsville K-9's and their handlers should be certified and ready for the streets in December.
×
Most recent Utah stories