Estimated read time: 1-2 minutes
This archived news story is available only for your personal, non-commercial use. Information in the story may be outdated or superseded by additional information. Reading or replaying the story in its archived form does not constitute a republication of the story.
SALT LAKE COUNTY -- Thousands of Salt Lake County residents still haven't paid their police bills. The Unified Police Department's delinquent fees now top $1.7 million.
According to the Salt Lake Tribune, county officials say about 12,900 payments are missing from the second billing cycle. That's a 28 percent delinquency rate. About the same number of people failed to pay the first bill this spring. About 8,600 homes and businesses are delinquent on both payments.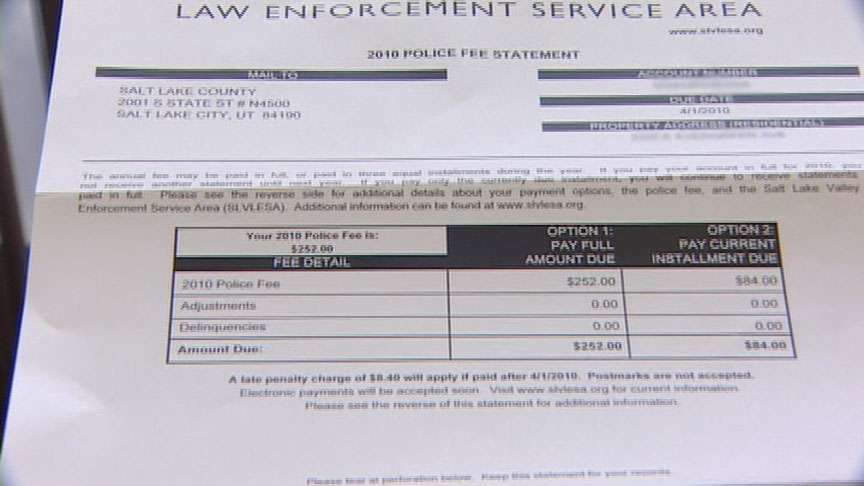 The department was expecting a delinquency rate of approximately 10 percent. Still, UPD is on track to reach its annual projection of $12 million in collections. It has collected $8 million so far thanks to more than 21,000 homes and businesses paying their bills in full for the year.
Kerri Nakamura, who oversees the payments, tells the Tribune that very few people have contacted the department saying they refuse to pay the bill. The police department instead blames the unpaid bills on lack of education about the fee, as well as the struggling economy. In Magna and Kearns, the delinquency rate is 38 percent.
The fee is about $167 annually for homeowners. Businesses pay more. It is collected three times a year.
The county approved the fee to offset dropping sales tax revenue in townships and other unincorporated areas.
×
Related links
Related stories
Most recent Utah stories