Estimated read time: 2-3 minutes
This archived news story is available only for your personal, non-commercial use. Information in the story may be outdated or superseded by additional information. Reading or replaying the story in its archived form does not constitute a republication of the story.
SANDY -- Rescue crews have called off the search for a 26-year-old woman who went missing after falling off a waterfall in Bells Canyon.
The search for Kimberly Ann Evans of Holladay began just before noon this morning, but ended around 8 p.m. so rescuers could hike safely down the canyon before dark.
Searchers will head back up the canyon Sunday at 7 a.m.
Evans was hiking by the second waterfall with 24-year-old Joseph Clark of Sandy around 11 a.m. The pair was on their first date.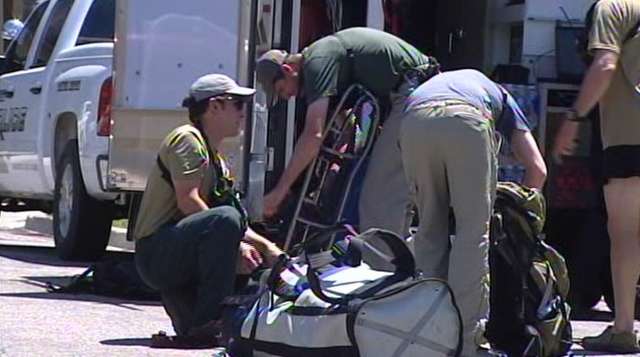 But the day quickly took a horrible turn. "He was walking across, according to witnesses, above the second waterfall when he started to slip," said Lt. Don Hutson with the Unified Police Department. "The girl he was with started to slip and they tried to help each other."
Witnesses saw Clark fall nearly 20 feet into the icy water below. Other hikers pulled him out from under a tree, where he got stuck, and called 911.
Dasha Prokofyeva joined others in trying to make Clark comfortable.
"It was very cold," she said. "He was shivering. People were trying to make him warm."
A medical helicopter was able to lift him out of the canyon using a hoist. Once they arrived at the command post, medical crews loaded Clark into the helicopter and flew him to Intermountain Medical Center in Murray.
"He is in what they're calling critical condition," said Hutson. "[He] suffered some head injuries as well as a hip injury."
Evans, meanwhile, was nowhere to be found. Hutson said it's likely she fell from the falls and got swept underwater. Search and rescue crews, along with officials from Murray police, Sandy police, Unified police and Sandy fire are conducted a wide-scale sweep of the water and surrounding area.
But as the search progressed, the outlook became grimmer. Hutson said it's unlikely Evans survived.
"I hope they find the girl," Prokofyeva said. "I hope he's doing OK also."
Just one week ago, the scene was the same. On Sunday, Mansour Ariazand fell from the top of the 40-foot falls and nearly drowned.
Three hikers in the area spotted him in the water and kept him alive while rescuers worked their way up the mountain. He survived with a broken vertebrae and a dislocated shoulder.
"Can't emphasize how dangerous water is," Hutson said. "We underestimate how swift it is."
Evans' family arrived at Bells Canyon Saturday afternoon from Wyoming. Rescue crews are hoping to have answers for them soon.
-----
E-mail: sdallof@ksl.com
×
Photos
Related stories
Most recent Utah stories