Estimated read time: 2-3 minutes
This archived news story is available only for your personal, non-commercial use. Information in the story may be outdated or superseded by additional information. Reading or replaying the story in its archived form does not constitute a republication of the story.
Amanda Butterfield ReportingGrief counselors are helping Utah State students as they mourn the deaths of eight of their fellow students, and one instructor. They died when their van crashed on the way back from a field trip.
Students on campus today have been encouraged to write their feelings, a memory, a goodbye-- anything to help them grieve.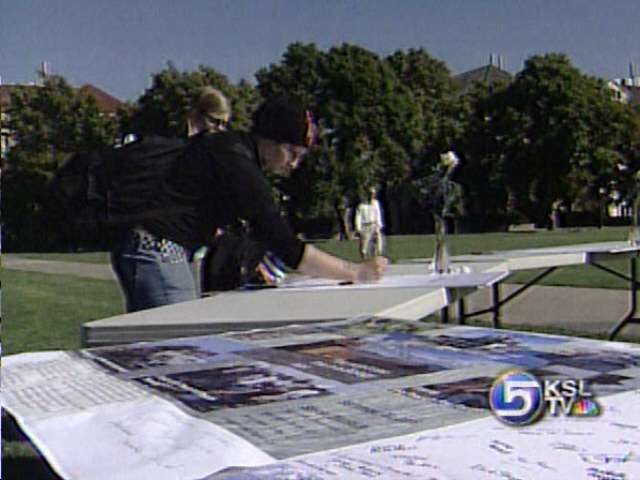 Posters for each of those who passed away have been set up on the quad on USU's campus for students to write messages. On each of the tables is a single white rose for each of those who passed away.
Counselors at the school say one of the best things someone can do in a time like this is to talk about it to anyone, a friend, family, or a counselor. Students today say attending last night's vigil and signing these posters has helped them.
Trent Turner, Student: "It felt good, my wife and son to sign for them, and it's good."
Jessica Malmberg, Student: "It's just so sad, all these kids died. I wanted to stop by today and let the families know they have support and love from the people that are here in the school."
Two students did survive the accident, 21-year old Robert Peterson of Tremonton was in surgery today to repair some more broken bones found in his foot. He is expected to make a full recovery and his family says he is alert and even joking around with them.
And 22-year old Jared Nelson of Provo also survived. He was in surgery last night and had a rod put in his thigh; it was a success. He did suffer head injuries as well and has been sedated, but his family is hoping for the best.
This afternoon KSL received an email from the University of Utah saying, "In response to Monday's deadly van crash, Utah State University is officially suspending operation of all full-size and 15-passenger vans for the next 30 days."
They say they're going to look into the safety of them. They also say they'll look at other options, including charter buses.
×
Related links
Most recent Utah stories