Estimated read time: 2-3 minutes
This archived news story is available only for your personal, non-commercial use. Information in the story may be outdated or superseded by additional information. Reading or replaying the story in its archived form does not constitute a republication of the story.
HERRIMAN -- An apartment in Herriman caught fire Thursday afternoon, sending a mother and her little boy to the hospital. Fire investigators believe it started when the boy was playing with matches.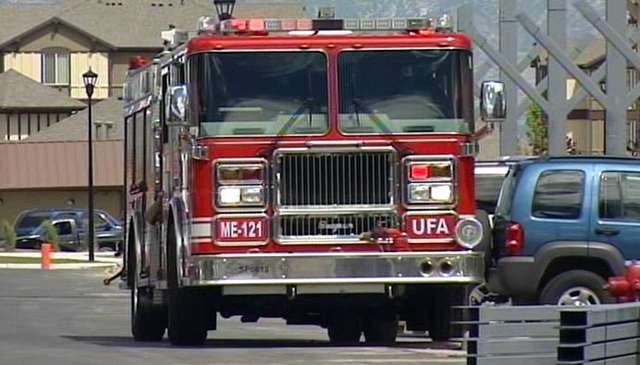 Crews were called to the apartment near 11800 South and 5700 West around 2:30 p.m. When they arrived, neighbors were already helping the young boy and his mother -- the only two inside the apartment when the fire started.
"We were going over to the building and then saw smoke coming out of the sliding glass doors and saw the mom and the little boy huddled in the corner of just the little sliding glass door place," witness Cassie Butt said. "He was screaming. She was in shock, skin was coming off, so we called 911."
One neighbor tried comforting the boy but quickly realized it was going to take more than just holding him.
"I went and picked him up to bring him to the bathroom, but his back ... he started screaming more, so I lifted up his shirt, and his back was peeling," neighbor Hope Canover said.
The mother and her son were taken to a hospital in critical condition, with burns to their arms, face, chest and neck.
Investigators say evidence inside the apartment shows the boy, who is 4 or 5 years old, was playing with matches and lit the couch on fire. His mother was sleeping there at the time.
"This is a sad reminder of how important it is for parents to talk to their children about the dangers of fire and that we should not play with matches," said Unified Fire Authority Capt. Clint Smith. "Unfortunately, we have these [situations] far too often that serve as a reminder to us."
"But let this be a reminder to everybody to have that talk with their children," Smith said, "to talk about fire prevention, fire safety, the dos and don'ts of playing with matches and fire."
Fire crews are still investigating the scene, trying to determine what the explosion was that witnesses heard. They expect that to take a few more hours.
Aside from the burned apartment and one next to it, all units have been reopened to residents.
E-mail: acabrero@ksl.com
×
Most recent Utah stories