Estimated read time: 8-9 minutes
This archived news story is available only for your personal, non-commercial use. Information in the story may be outdated or superseded by additional information. Reading or replaying the story in its archived form does not constitute a republication of the story.
SALT LAKE CITY -- Chevron has accepted full responsibility for a broken pipeline that sent 500 barrels of crude oil gushing down Red Butte Creek to Liberty Park. Even so, a criminal investigation has been launched into the spill.
Chevron flew in crews from around the world Sunday to help with the cleanup effort.
Informational meeting
7 p.m. Monday
Clayton Middle School
1470 S. 1900 East
Hosted by mayor's office
Chevron reps and other city officials will answer questions
Workers spent the day trying to clean up close to 21,000 gallons of crude oil from Salt Lake waterways. Crews have blanketed Liberty Park and are using hoses to try to suck all the oil out of the pond.
Officials admit the areas that suffered the most serious damage will likely take weeks to clean. "From Liberty Park downstream, I think it's very minimal," said Mike Roach with Utah's Division of Wildlife Resources. "I'm not sure there's going to be any long-term damage from what we can see right now."
KSL found indications Sunday night that some oil is still seeping into the Jordan River, potentially threatening areas downstream towards the Great Salt Lake.
Chevron denies city claims about alarms going off Friday
On Sunday, Chevron officials denied a scenario played out in a city press release Saturday. It claimed Chevron had high- and low-pressure alarms go off Friday night. The city claims Chevron determined the leak started about 10 p.m. Friday and leaked all night before anyone blew the whistle.
Chevron officials, however, said that's not true. They said there were no pressure alarms, only an alarm triggered by a Rocky Mountain Power failure. It alerted Chevron that a pipeline sensor had lost power.
Company officials said they had not determined if there was a connection between the power failure and the oil leak.
---
I think they understand it's in their best interest to do everything they can to fix this as soon as possible.
–Rep. Jim Matheson
---
Oil leak discovered Saturday
The leak began Friday night when an underground Chevron Corp. pipeline in the mountains near the University of Utah broke. The breach sent oil into a creek that flows through neighborhoods, into a popular Salt Lake City park, and ultimately into the Jordan River, which flows into the Great Salt Lake.
The 10-inch pipeline was shut off Saturday morning, when workers at a nearby Veterans Administration building smelled oil and called the Salt Lake City fire department, which notified Chevron. The pipe carries crude oil from western Colorado to a refinery near the Salt Lake City International Airport.
Utah Congressman Jim Matheson says an executive with Chevron Pipe Line Co. told him Sunday the company cannot determine what caused the oil leak until crews can find the broken section of pipe.
Matheson is urging full disclosure on the leak's cause, and said his office will follow up to make sure Chevron follows EPA regulations.
"I would say they are responding very aggressively to it. I think they know there is a heightened concern among people in this country about oil spills," Matheson said. "I think they understand it's in their best interest to do everything they can to fix this as soon as possible."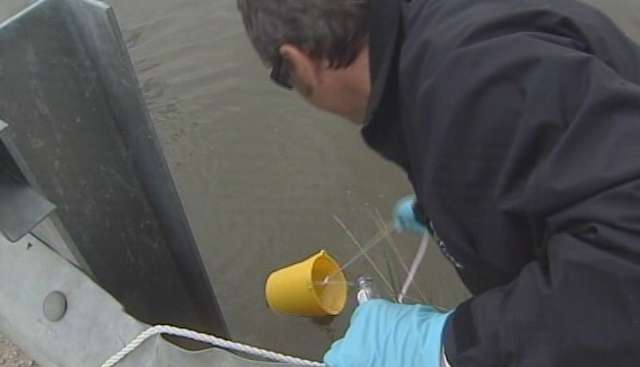 The oil was largely confined to Red Butte Creek, a three- or four-mile stretch from Red Butte Garden down to Liberty Park.
Officials Sunday announced they were confident they contained the spill to the Jordan River. But a real concern is whether much of it got loose and is headed into the Great Salt Lake.
Crews test water in Davis County
In Davis County, miles from Liberty Park, there's no evidence yet the oil has made it this far. But state water quality officials are checking to be sure.
They have been taking water samples all along the Jordan River. The lab results won't be available until Monday, but the water quality experts can see with their own eyes that some of Chevron's crude oil did make it into the river.
---
This is a sensitive ecosystem in the Great Salt Lake, and the Jordan River has quite a few pollution problems. To add insult to injury, an oil spill would be harmful to the Great Salt Lake wetlands and to Farmington Bay.
–Jim Harris
---
A visible oil sheen is present in the river from 1300 South in Salt Lake City all the way to 1800 North in the Rose Park Area.
There is nothing visible in the canals and marshes in Davis County leading to the Great Salt Lake, but crews are testing for toxic chemicals that could damage the millions of birds that visit the Great Salt Lake.
"This is a sensitive ecosystem in the Great Salt Lake, and the Jordan River has quite a few pollution problems," said Jim Harris with the Utah Division of Water Quality. "To add insult to injury, an oil spill would be harmful to the Great Salt Lake wetlands and to Farmington Bay."
Concern for wildlife grows
Jodi Gardberg, a watershed coordinator, is most concerned for the animals that live in the area.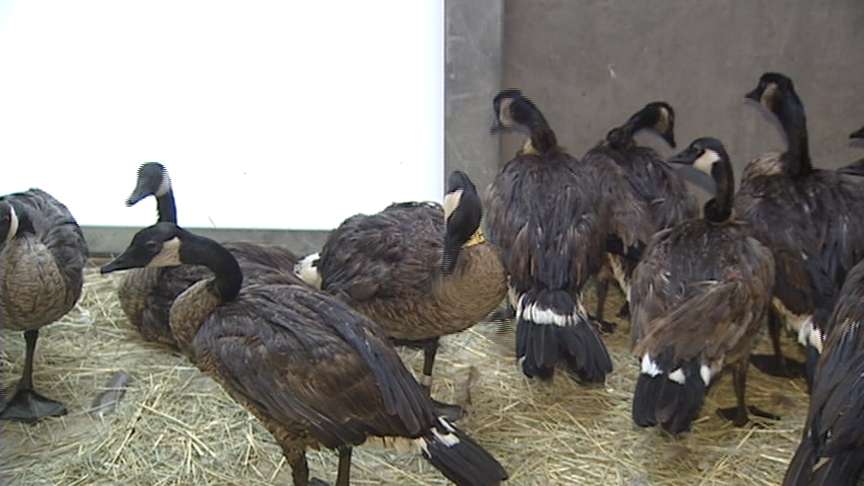 "The worry is that the oil would get on the birds, and it suffocates organisms," Gardberg said.
That's exactly the concern with birds collected in Liberty Park and surrounding areas. At least 270 geese and ducks were coated in oil and have been treated at Utah's Hogle Zoo.
Volunteers are cleaning the birds with Wesson Oil, which acts as a surfactant, and with Dawn Detergent, which breaks down the oil. The birds are also getting force feedings of activated charcoal.
"They seem to be doing really well," said Chris Schmitz, the zoo's education curator. "The people are getting a little more tired than the birds."
But so far, four ducklings and one baby goose have died.
"It hurts," said Jeffrey Landry, animal care supervisor at the Hogle Zoo. "But you can't dwell on it. You have to go along. It seems like there's always another bird that's coming in that we have to do."
The oil also flowed through several other riparian areas, which could threaten a rare Utah fish called a June sucker. It's been listed as an endangered species since 1986.
"It's sad and it's kind of a wake-up call because I'm not so sure we're paying enough attention to what's happening in the Gulf Coast because it's not close to us," said Schmitz. "It could happen to anyone."
Most of Liberty Park reopened Sunday, but the pond remained closed.
Criminal investigation begins
The death of the birds is one of the things that turned the spill into a criminal investigation.
"Anytime you have wildlife that is killed, it is against the law, whether you do it accidentally or intentionally," said Roach. "It doesn't matter."
These types of cases are typically punished with fines, rather than prison time.
The U.S. Fish and Wildlife Service is leading the criminal investigation. The place at Red Butte Garden where the pipeline leaked has been roped off by police as a crime scene.
Residents deal with aftermath
The spill has not only affected the environment, but the people who call the creek home. Now their backyards are clean-up areas.
Homeowners on the city's east side are upset about the smelly oil fouling up their properties.
"I use this water to irrigate my yard, and so it goes through a pump system and a filter system," said resident Eric Nielsen. "I'm not sure I want to turn that on right now."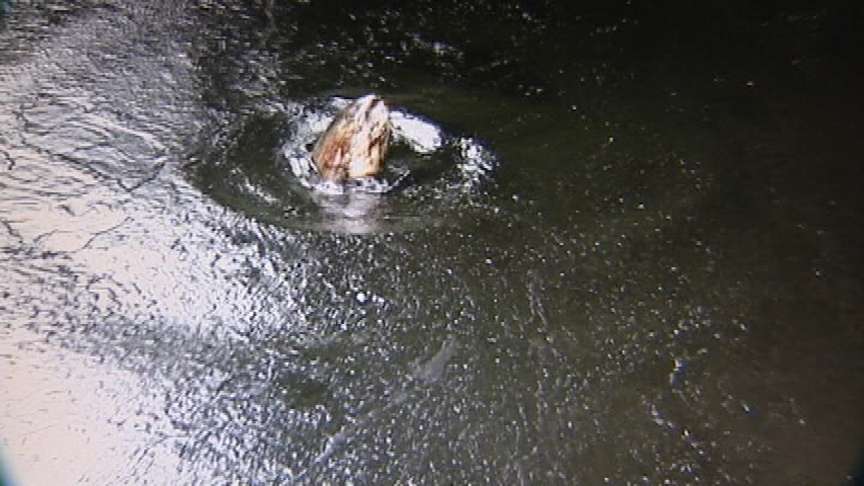 In a home video shot by Ralph and Marina Riedel, you see rainbow trout gasping for air above the water in their backyard pond. The water was black, thick and sticky -- reminiscent of the Gulf Coast spill.
"It was so far away we didn't really have a feeling for how gross and messy and awful for every living thing it is," said Marina. "Now it's in our own backyard.
Chevron contracted crews from Oregon to start the clean up process for these neighborhoods.
"That's what everybody is doing here," said John Berger with NWFF Environmental. "All the cleanup companies are helping everybody that's been impacted and that's what we do for a living -- help people.
---
It was so far away we didn't really have a feeling for how gross and messy and awful for every living thing it is. Now it's in our own backyard.
–Marina Riedel
---
That's exactly what the mayor's office, along with Community Emergency Response Teams, or CERT, tried doing Sunday.
Officials went door to door in neighborhoods affected by the spill, answering questions and passing out fliers for Monday night's town hall meeting, which is sure to draw a big crowd.
Mayor Becker visits affected neighborhoods
Salt Lake City Mayor Ralph Becker visited the neighborhood for the first time Sunday to see the devastation for himself.
"It's a huge loss for these property owners and we're just going to do what we can," he said.
Marina Riedel says the whole situation is devastating to her.
"I feel like this whole neighborhood," she said. "We consider ourselves custodians of this river. We look out for it, we clean it, we take care of it, we pull garbage out of it, and it's heartbreaking.
The community could be feeling that pain for some time.
The informational meeting will be held at Clayton Middle School Monday at 7 p.m.
Chevron representatives and other city officials are expected to be in attendance.
The Salt Lake City Police Department told residents whose yards were polluted by the spill not to clean them up, but to file a claim with Chevron first. Chevron has said it is taking full responsibility for the spill and will pay for its cleanup.
Officials are still urging people to stay far away from the affected waterways.
-----
Story compiled with contributions from John Hollenhorst, Nicole Gonzales and the Associated Press.
×
Related stories
Most recent Utah stories