Estimated read time: 6-7 minutes
This archived news story is available only for your personal, non-commercial use. Information in the story may be outdated or superseded by additional information. Reading or replaying the story in its archived form does not constitute a republication of the story.
BLUFFDALE -- Ronnie Lee Gardner, set to die by firing squad next week, makes his final appeal for clemency Friday, with his attorneys asking the state pardons and parole board to change his sentence to life in prison.
Gardner's two-day commutation hearing comes to an end a week before he is set to die for fatally shooting an attorney during a botched escape attempt at a Salt Lake City courthouse in 1985.
The board is expected to have a decision Monday morning.
Gardner says he's a changed man. Thursday, he personally asked Utah Board of Pardons and Parole to commute his death sentence to life in prison.
Gardner makes personal plea for commuted sentence
The hearing got underway Thursday morning, but it wasn't until Thursday afternoon that Gardner spoke to the parole board.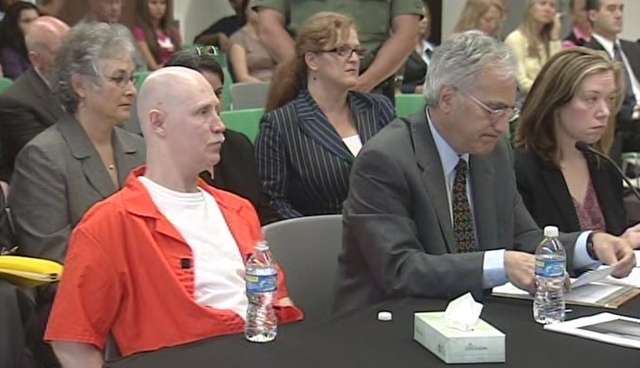 Gardner told the board he's not the same person he was even five years ago.
"It was just time to grow up and accept what I've done," he said. "This is hard, very hard, but there's nothing I can do to bring the people back that I killed."
He added that, if given the chance, he wants to be a role model for troubled kids.
"I don't want to live for the sake of living. It's ridiculous. It's a ridiculous thought to me just to live for the sake of living," Gardner said. "If I could help somebody and be a positive role model, I'm good with that."
Gardner says he's learned a lot about himself over the past 10 years, and when he was living a life of crime he couldn't stop his behavior.
Gardner's attorney also read a letter Gardner wrote to Oprah Winfrey in 2008 asking her for help raising money for a survival camp for teens.
"I'm no different than any of them kids, so any one of them can end up where I'm at right now," he said.
Gardner says he and his brother own land in Box Elder County, which they devote to their Back to Basics program.
"I think you should commute my sentence because I can do a lot of good. I really believe that I can," Gardner said. "First of all, I'm a good example. There's no better example in this state of what not to do."
Attorneys argue before the board of pardons
Earlier in the day, during opening arguments, Gardner's attorney's painted a picture of a man who was troubled as a young child by drugs and mental illness.
His lawyer, along with a psychologist, told the parole board that those factors contributed to the crimes he committed as an adult, and that after years of mental evaluations and help to deal with those factors, he's an improved man.
"Appearing before you today is a changed person," said Gardner's attorney Andrew Parnes. "As the Department of Corrections report shows, Ronnie Lee Gardner is not the same person he was a number of years ago."
State prosecutors don't agree and say he needs to take responsibility for his crimes.
"Mr. Gardner was sentenced to death and earned that death sentence for his unflagging history of violent crime," said Utah Assistant Attorney General Tom Brunker. "That violent crime included the murder of Melvyn Otterstrom who was working at the Cheers Tavern to earn extra money for his young family."
Brunker said Gardner is a cold-hearted killer with an extensive history of other crimes and a record of multiple escapes. He has called Gardner the "poster child for the death penalty" and said he is not deserving of any mercy.
Victims' friends and family testify
The family of Melvyn Otterstrom spoke at Thursday's hearing and expressed their desire to have the execution of Gardner carried out.
Related:
"We the family of Melvyn John Otterstrom want to see Mr. Gardner's sentence carried out on June 18, 2010," said Craig Watson, a cousin of the Otterstrom family.

Gardner was convicted of killing Otterstrom in 1984 and was at a hearing for those murder charges when he killed attorney Michael Burdell during a failed escape attempt.

Tami Stewart is the daughter Nick Kirk, a bailiff also shot by Gardner that day.

"He has never shown any compassion for any of his victims," she said. "So why does he deserve any compassion? The only person he has been concerned about is himself. He has played the system for 25 years and cost the taxpayers millions of dollars."

Friends and family of Burdell also spoke at the hearing, expressing their feelings on his death penalty sentence. Many said Michael would not want Gardner's current sentence carried out.

"I know that whatever circumstances he would have been put into, he would have never taken another person's life," said Ron, a friend of Burdell.

Gardner's attorney has argued that the attorneys who represent the Board of Pardons and Parole also work for the Utah Attorney General's Office, which sought the death warrant in his case. However, Wednesday a federal judge denied a request for a temporary restraining order that would have postponed Thursday's hearing.

Commutation is rare

The board's job is to decide whether there is any reason that the death penalty is an inappropriate sentence or whether there is any reason to grant Gardner clemency.

Board members have been poring over more than 1,000 pages of records documenting Gardner's life, criminal history and behavior during his more than 25 years in prison to prepare for the hearing, board spokesman Jim Hatch said.

The board is expected to have a decision Monday morning.

Utah's parole board has rarely held commutation hearings. Only 14 men have had ever had death sentences commuted -- the last in 1962. Only two hearings have been held since 1977, according to records kept by a Weber State University criminal justice professor.

The most recent hearing was for Elroy Tillman in 2001. The hearing was disrupted when Tillman's attorney suffered a heart attack. It was never resumed, although Tillman's sentence was vacated when it was learned that some case evidence was withheld. He is now serving a life sentence.

------

Story compiled with information from Sandra Yi, Shara Park, Marc Giauque, Andrew Adams and The Associated Press.

×
Photos
Related stories
Most recent Utah stories