Estimated read time: 2-3 minutes
This archived news story is available only for your personal, non-commercial use. Information in the story may be outdated or superseded by additional information. Reading or replaying the story in its archived form does not constitute a republication of the story.
Nadine Wimmer ReportingAn unusual approach to helping at-risk teens is earning rave reviews. And Deanie found the finished product is quite a production. Musical theatre is not a standard venue in which to treat at-risk teens. But the Heritage School in Provo is helping several kids stage a success.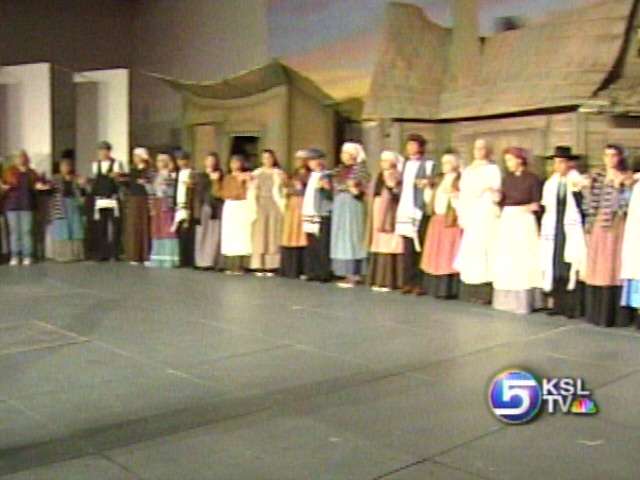 Fiddler on the Roof is a perfect production for teens struggling with the same themes--poverty, obedience and change.
Courtney, 17-years old: "It helps me a lot if I'm really depressed or down or I'm upset."
Courtney says even when life got really tough, she always found joy on the stage.
Courtney: "It's a calming aspect for me."
For most, this performance is a debut. Kevin came to the center 10 months ago. He never thought he would ever be in a play, but it was on the stage where he found the help he had hoped for.
Kevin, 15 years old: "It brings up your self-esteem a lot if you are feeling down. It gives you something to look forward to in life."
For many kids, this program is a realization they are more than just troubled teens.
"I can be more. I don't know how to say it, be more who I am."
Each performance begins with a prayer circle, the energy soon takes over.
Pat Davis, Director: "They reach a high every night of performance that no chemical will ever give them."
Pat Davis has been a volunteer director for the past seven years. It wasn't something she wanted to do at first, but she quickly recognized the potential of the program and most of all, the potential of the kids.
Pat Davis: "I want them to remember the feeling they had when they completed something--some for the first time in their life--not only completed it, but successfully completed it. It will help them the rest of their lives."
Opening night is tomorrow, the play runs through Saturday.
×
Related links
Most recent Utah stories