Estimated read time: 2-3 minutes
This archived news story is available only for your personal, non-commercial use. Information in the story may be outdated or superseded by additional information. Reading or replaying the story in its archived form does not constitute a republication of the story.
Whit Johnson ReportingA couple of chihuahua puppies, about four-months-old, have survived quite a journey. They were stolen, then recovered during a police raid.
An Ogden pet store is very excited to have them back.
Three puppies were stolen in two separate burglaries. One was a unique black chihuahua. It is still missing. While the search for him continues, the other two dogs are back home in loving arms.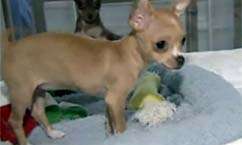 One's name is Crockett. He's a chihuahua, and only several months old. Crockett can't speak, but he has a story to tell.
Stef Butte, the owner of Stef's Animal Attractions said, "Stealing a live animal is horrible."
But that's just what happened. About three weeks ago, Crockett and another chihuahua were abducted from Stef's Animal Attractions, a small pet store in Ogden.
"You feel violated, for sure," Butte said.
That was the second burglary. The first happened in December. Only one puppy was taken then, and in similar fashion.
"The people who took the dog had to be in the store several times to know exactly... I mean, they had three to four minutes to run in, grab it, run out," Butte explained.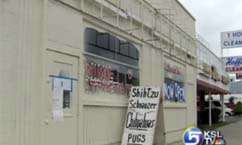 Stef Butte has since moved her store to a new, and safer, location. She never expected to get her dogs back.
"We love our puppies. When I found these two we just hugged them and kissed them. They recognized us," Butte said.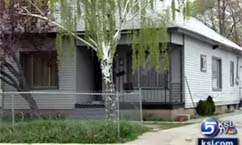 Police found the two chihuahuas and another stolen puppy yesterday in an Ogden home, while assisting on a search warrant for an unrelated burglary.
Sgt. Kyle Bosgieter of the Ogden Police Department told us, "This is rare. We don't see this very often."
One of the recovered puppies from the December burglary has already found a new home.
"This puppy just needed really good love and affection. I was really excited about where it went," Butte said.
She is hopeful the black chihuahua will show up soon, and confident Crockett will find a loving owner. But for now, it's a celebration among all at Stef's Animal Attractions.
Ogden police did not arrest anyone in the home where they found the dogs. Officers still need to prove the people who lived there either took the puppies themselves or knew the puppies were stolen. Right now it's still under investigation.
×
Most recent Utah stories