This archived news story is available only for your personal, non-commercial use. Information in the story may be outdated or superseded by additional information. Reading or replaying the story in its archived form does not constitute a republication of the story.
SALT LAKE CITY -- Motorists entering Utah now have something new to look at.
The state has finished installing 35 new welcome signs at interstates, highways and visitor centers across Utah.
"Welcome signs are the front porch of our state," said Leigh von der Esch, the director for Utah's Office of Tourism.
During a ceremony at the Salt Lake International Airport Tuesday morning, von der Esch and other state officials celebrated the 35th and final welcome sign being put into place.
What's unique about Utah's welcome signs is that not all of them are the same.
"One sign doesn't do it for Utah," said Gov. Gary Herbert. "We've got many different vistas, venues, climates, topography and geography."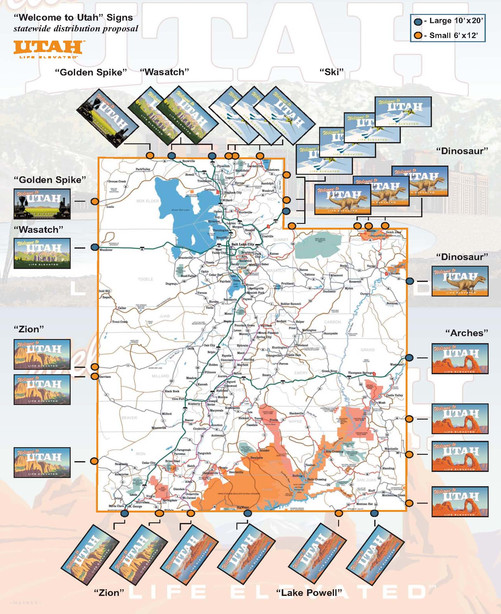 The new signs feature a variety of colorful, geographically specific images meant to remind travelers that some of the most stunning scenery in the West belongs to Utah -- not its neighbors.
In all, there are seven different welcome sign designs, depending on where you enter the state.
In the northern part of Utah, you'll see either the downtown Salt Lake City/Wasatch Front design, or the popular welcoming of the railroads/Golden Spike design. The southwest part of Utah has a Zion National Park design. The southeastern section of Utah has either the Arches National Park/Delicate Arch design, or a design of Lake Powell. The Vernal and Flaming Gorge area has a dinosaur for its design. Coming into the state near Park City and Bear Lake will feature a Ski design.
All of the designs feature Utah's brand "Life Elevated." That rebranding effort began in 2006 and has helped boost visitation and tourism spending from $5.7 billion in 2005 to $6.2 billion in 2009.
"Our brand is resonating with visitors," said von der Esch, "Reader's Digest this month just noted that Utah's Life Elevated license plate is the No. 1 brand slogan for reader's choice."
The new signs replace the 2002 Winter Olympics design, which has been in place for 11 years.
"It's a nice design. It's nice to have something new," said Rita Schoenenberger, who lives in Portage on the Idaho border off of I-15. Her house is the closest house to the new sign.
"It's going to be fun to see how many tourists stop and get their picture," said Schoenenberger. "Already we've been seeing a lot of people stopping and taking pictures. It's really interesting."
About 31 million people are expected to drive by the signs each year, according to the Utah Department of Transportation.
Overall, the signs cost about a half-million dollars, which was paid for by UDOT and the Utah Office of Tourism at signage collection points over the past three years.
David Meikle is the artist who designed the signs. He's from Utah and is excited his work will be seen by an estimated 22 million motorists every year.
"I remember as a kid when you're on a long road trip and you're anxious to get home, and you're always looking forward to seeing that sign," said Meikle. "It was always really exciting when you saw the state of Utah sign."
The signs are expected to last between 10 and 12 years and, according to Herbert, represent a new way outsiders think of Utah.
"Although we still maintain our position as the 'Crossroads of the West,' we are now becoming a destination," said Herbert. "A picture is worth a thousand words, and so these welcome signs as a picture of what Utah is about [are] going to go a long way toward encouraging tourism and promoting people to come to Utah."
E-mail: acabrero@ksl.com
×
Photos
Related Links
Related Stories