Estimated read time: 2-3 minutes
This archived news story is available only for your personal, non-commercial use. Information in the story may be outdated or superseded by additional information. Reading or replaying the story in its archived form does not constitute a republication of the story.
Ashley Hayes ReportingOne teacher's desire to survive a disease and raise a little money for research in the process has turned into quite the fundraiser.
Kathy Howa created the "Swing for Life" tournament with the help of her softball team. It has turned into a community event that raises thousands of dollars for breast cancer research each year.
Howa says she never dreamed her hit-a-thon would become the Swing for Life tournament it is today.
She started it five years ago. Her softball team had qualified for a state tournament. That prevented the players from running in the Race for the Cure, which was being held the same weekend. So the team hosted a hit-a-thon to raise money for cancer research, and the rest is history.
From the sidelines it looks like any good-natured schoolyard match. But in this game there are no losers. Each player, whether she bats a thousand or never makes it to first base, is swinging to strike out breast cancer.
For these kids, cancer has a face and a name: coach and teacher, Kathy Howa. She is also a breast cancer survivor. "I was diagnosed in 2002 with stage-two breast cancer. I actually found out right here at school. It was a pretty big eye opener."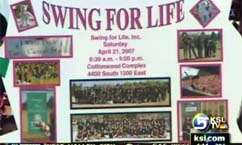 Howa and her school have accomplished much in the five years since she received that phone call.
Swing for Life started with Howa's softball team. The year team members decided to host their own hit-a-thon, only three teams participated. They raised $12,000. Since then, it's grown into a community event with all sorts of donations and prizes. This year 40 teams are participating and they hope to raise $52,000.
"It's just turned into a monster for a great cause," Howa said.
Swing for Life has collected a total of more than $100,000 in donations for the Susan G. Komen Foundation. But it's the less quantifiable results, the life lessons learned in the process of earning money, that Howa hopes will stick with her kids.
Mats Sanyer is an eighth grader. He said, "She fought through it the whole way. She's amazing. She keeps fighting everything."
Another eighth grader, Tara Patel, said, "She's awesome. She's a friend as well as a teacher."
Howa said, "I really believe the kids that are here right now are going to find themselves with less of a threat for this breast cancer than I did."
That belief makes everyone on the field a winner.
The tournament takes place April 21.
This spring, Howa has been cancer-free for five years. As part of her celebration, this year's donations will go to the Huntsman Cancer Institute.
×
Related links
Most recent Utah stories