Estimated read time: 2-3 minutes
This archived news story is available only for your personal, non-commercial use. Information in the story may be outdated or superseded by additional information. Reading or replaying the story in its archived form does not constitute a republication of the story.
Jed Boal ReportingThe Utah League of Cities and Towns was looking for inspiration at its convention, a speaker to fire them up. They got it from an unsung hero from the attacks on the World Trade Center.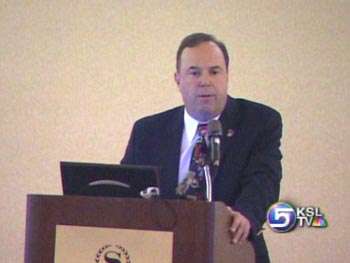 He thought nothing of himself and sacrificed everything for others in one of our nation's toughest hours. He was the highest ranking firefighter to get out of the towers alive.
Chief Richard Picciotto, New York City Firefighter: "It's a day in our history when everyone knows exactly what they were doing, where you were. You remember everything about that day."
And Chief Richard Picciotto's memories are indelible. He was at his Manhattan firehouse when the first plane hit the north tower. An hour later he was in that tower and made it to the 35th floor. His tower shook as the neighboring tower collapsed.
Chief Richard Picciotto, New York City Firefighter: "There were still hundreds of firefighters and rescue workers in that building. I gave the order to get out."
Then Picciotto was thrown around as his tower collapsed; the floor disintegrated under him.
Chief Richard Picciotto: "I'm trying to stand, now I can't stand because it's there's nothing to stand on, I'm free-falling in blackness."
Certain he would die, images of his family flashed in his mind and he prayed.
Chief Richard Picciotto, New York City Firefighter: "And I'm on the sixth floor of this building, the north tower when it collapses. Eight seconds later I literally thought I was dead."
Then it was black, still and silent. He discovered he was alive with about a dozen others in a collapsed stairwell. Picciotto was the last firefighter to get out alive.
Chief Richard Picciotto: "It was tremendous how united this country became. We were devastated but, we became a close, stronger country."
But he fears that spirit has waned during the last few years.
Chief Richard Picciotto: "We can't lose that spirit, that's what makes this country great."
Fortunately, he feels that spirit again in the aftermath of Katrina.
Chief Richard Picciotto: "People don't mind sacrificing to help other people, so we have to build on that and help each other."
The most enduring lesson for Picciotto: enjoy life, but take care of your family and friends.
×
Most recent Utah stories