Estimated read time: 2-3 minutes
This archived news story is available only for your personal, non-commercial use. Information in the story may be outdated or superseded by additional information. Reading or replaying the story in its archived form does not constitute a republication of the story.
Alex Cabrero ReportingRecreation spots throughout Utah are packed with people having fun. One spot, though, has new rules.
Most of the attention this Easter weekend is focused on Little Sahara in Juab County. Deputies have already made several arrests there.
But many people are visiting other places, including the Knolls area off I-80, 30 miles east of Wendover. New rules there include no more target shooting, no glass containers outside of vehicles, and no burning firewood that has nails or other metal in it. But the biggest change at the Knolls is that it's no longer free to play there.
For years, people have come to the Knolls to hop on their four-wheelers and dirt bikes.
Gary Everett told us, "We're just out here to have fun!"
Now, though, visitors have to hop out of their cars first, and pay.
Nicole Harris of Salt Lake City reasons, "You've got to pay to go camping, so why not for anything else?"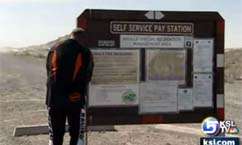 Last month, the Bureau of Land Management began imposing a $6 fee to play at the Knolls. The BLM says crowds there were starting to get a little out of control, so they wanted to start better policing the area. Everyone we spoke with loved that idea.
Mike Snider from Salt Lake City said, "I think it's great. I think it's well worth the six bucks."
Gary Everett agreed. "I don't mind paying to get in. Not at all."
Collecting the $6 fee also allowed the BLM to hire another full-time ranger to patrol this area. That makes the families we spoke with feel even safer at the Knolls.
"Now that I've got kids, taking my kids out, I want everything to be safe," Nicole Harris said.
Eric Stucki, of Utah State Parks and Recreation, said, "We want everybody to be safe.
"We're out here making sure everyone has their helmets on, especially if they're under 18. It's the law. Make sure kids have their licenses, and make sure the alcohol stays at the camps, not when they're out there riding. Make sure there's no drug activity going on."
The $6 fee will also help pay for new bathrooms.
But most of all, the BLM says the fee will make the Knolls better, safer, and more fun to visit.
"It makes it safer," said Gary Everett, "a little bit more patrolling, because I know there are people that don't use the noggin."
We've been told everything is going just fine so far at the Knolls. There have been no arrests this weekend.
×
Most recent Utah stories