Estimated read time: 1-2 minutes
This archived news story is available only for your personal, non-commercial use. Information in the story may be outdated or superseded by additional information. Reading or replaying the story in its archived form does not constitute a republication of the story.
Ed Yeates ReportingSchools will never become germ free when it comes to the spread of infectious diseases like the flu, but some are getting close to it.
The newly completed Bonneville Elementary School looks great aesthetically, but it's also got some built-in features designed to decrease the spread of germs from one kid to another.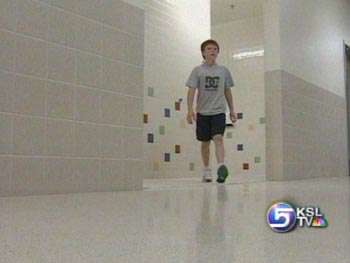 Like other new generation schools, Bonneville's restrooms or bathrooms - whichever name you prefer - have NO doors. No doors mean no doorknobs or door pads to touch entering or exiting the rooms.
And inside the only thing you really have to touch is the soap dispenser - and it's got antibacterial soap. Everything else in there is touchless. Faucets, urinals, toilets, hand dryers - like airport facilities - they all turn on and off via motion. No need to touch anything.
Craig Ruesch, Principal, Bonneville Elementary School: "We're very concerned as a school that anything we can do to eliminate the spreading of germs can have a tremendous impact, because there are times when our attendance can have a ten percent absenteeism rate, which is significant."
Elk Ridge, another school built a few years ago, set up a large circular touchless basin in the hall to encourage hand washing. The new Bonneville school also has an air conditioning air flow system which exchanges a tremendous amount of filtered air. The more the air moves, the cleaner it stays. Bacteria and viruses thrive in re-circulated, stagnant hot air, which is often the environment in older school buildings.
Reducing the spread of infection among kids is why public health is encouraging protection from the flu this year. While vaccine inventories are still being evaluated State Health says the nasal flu mist is a good preventive option for healthy kids five years and older.
×
Most recent Utah stories