Estimated read time: 2-3 minutes
This archived news story is available only for your personal, non-commercial use. Information in the story may be outdated or superseded by additional information. Reading or replaying the story in its archived form does not constitute a republication of the story.
Carole Mikita Reporting What happens when the play you want to do calls for a pool on stage? You build it and cast actors who can swim. A theatrical challenge for sure, but also a challenge as a news story.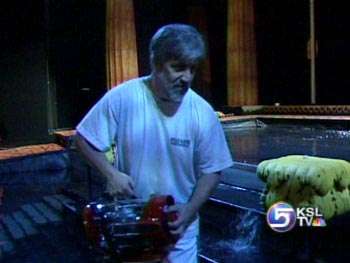 The play is Pioneer Theatre Company's season opener, 'Metamorphoses' - a Broadway hit, Tony-award winning script, but we fondly refer to it as our 'Poseidon Adventure'. You'll see why.
We don't usually require our photographers to wear swim trunks, but this was an underwater assignment for Bob Brown - his mini cam enclosed in an airtight clear carrier.
Charles Morey, Director: "We always want to open the season with a splash, no pun intended."
Pioneer Theatre Company is producing "Metamorphoses", a modern take on Greek and Roman mythology. The script calls for a pool deep enough for actors to enter from underwater.
We'll show you from a photographer's point of view. Once under, Bob found a chamber with about eight inches of air where actors wait for a light cue to swim into the stage pool and then surface.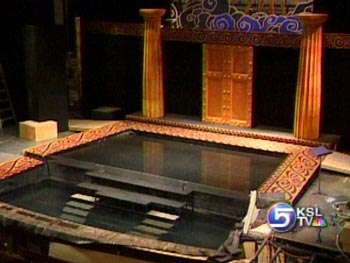 Charles Morey: "Everybody does a little bit of everything. Some are, play minor parts in one story, and then a major part in another story and then swim underwater to play the God, 'Poseidon'."
Jason Brown plays Poseidon, perfectly comfortable in the deep of course, he adds a good natured warning to ticket holders who have front row seats, they will find complimentary towels.
Based on Greco-Roman mythology, 'Metamorphoses' adds a modern and sometimes humorous touch to love, loss and hope.
But the 7-thousand gallons of water becomes literally part of the cast - another character.
Reed Rossbach, technical director "We had to find a way for people to actually enter the pool unseen and exit the pool unseen... "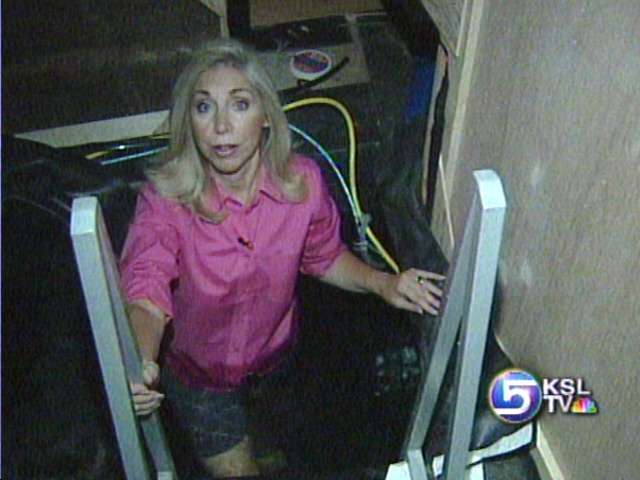 The entrance is just literally off-stage into something that looks like a swimming pool. It's one, two, three steps and you're in, .and then under into the diving bell where you wait for a cue to come up.
Jason Brown, 'Metamorphoses': "When you're waiting down here underneath in the diving bell, there are lights rigged for your entrances and exits but, then you know, you have to be underwater for a specific amount of time and then pop up at the right time..."
That character then asks the gods to let his body be found. This show premiered on Broadway one week after September 11th, and is opening here now following Hurricane Katrina.
Charles Morey, 'Metamorphoses' director "The very last line of the play is 'Let me die still loving so that I might never die...and that's the message that this play brings to the world."
Morey and his company hope many will want to enter *their world to hear that message.
"Metamorphoses" opens tonight at Pioneer Memorial Theatre at the U. of U. and runs through October 1st. Tickets are available. Just 'heads up' ... on the front row.
×
Most recent Utah stories