Estimated read time: 3-4 minutes
This archived news story is available only for your personal, non-commercial use. Information in the story may be outdated or superseded by additional information. Reading or replaying the story in its archived form does not constitute a republication of the story.
John Daley ReportingBYU's invitation of Dick Cheney has inspired a full-spirited public debate, even as a poll shows most Utahns are OK with Vice President Dick Cheney graduation speaker.
The students were asked to be respectful: to stay in the designated area with no shouting, no bullhorns and no confrontations. That's exactly what happened at the kind of protest BYU hasn't seen in years. Many let their posters do the talking about their views regarding Vice President Cheney coming to speak at BYU's commencement.
Those who were protesting the vice president's visit say they are upset about war, about torture and about the Valerie Plame affair. They said they felt it's their obligation to speak out and that they wanted their classmates at BYU to think about the record of this administration.
The College Republicans in a smaller rally defended the vice president and his choice to speak at the graduation services. They said that even if they don't agree with some of the administration's policy, they respect the man and his office. They're proud to have the vice president come to BYU and wanted to express their views that they don't support what the other group is doing.
A wide variety of opinions were shared on campus today.
Diane Bailey is president of the College Democrats. She said, "I think we've seen with his support of the war in Iraq and torture, this is not a morality we want our students replicating."
Jace Newbold, a junior at BYU, expressed support for Cheney last month. "I think it's great. I feel a lot of the controversy is unnecessary. I like Dick Cheney, whether you believe in his political views or not. He's a great leader."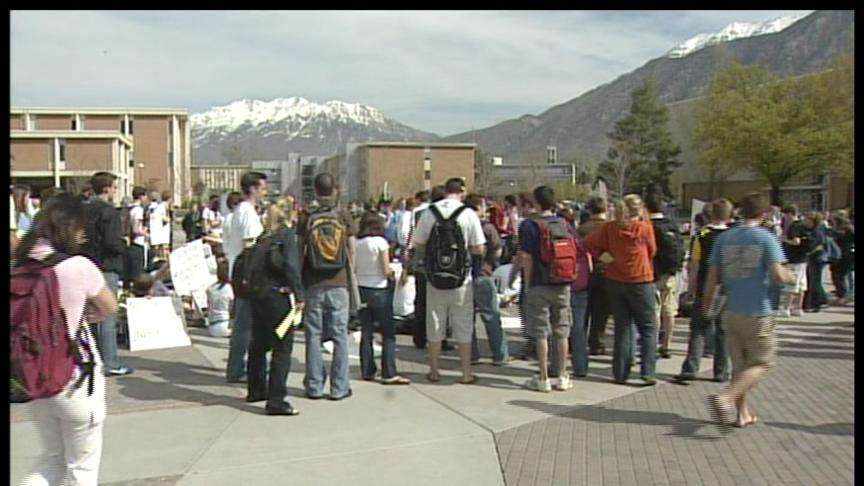 BYU Senior Anne Zobell expressed her disappointment with BYU's decision to invite Cheney by saying, "I don't support having Cheney come and speak at my commencement because I'm graduating, I'm a senior. I don't think he represents the values of this university."
Sophomore Spencer Dorsey said, "Cheney doesn't represent me. I feel he's corrupted and immoral and incompetent and I don't think that represents this campus at all"
BYU Junior Andrew Christensen said, "He's well-meaning, but unfortunately, he's drunk on the narrowness we call national self interest. And he's blind therefore to the human crimes he's waging against humanity."
BYU Senior Lauren Swallow said, "I think the message is mainly one of respect. Respect for the administration of BYU, for choosing to have Dick Cheney come and speak with us, respect for the vice president, for his office and his position, for his experience and for the things we can learn from him."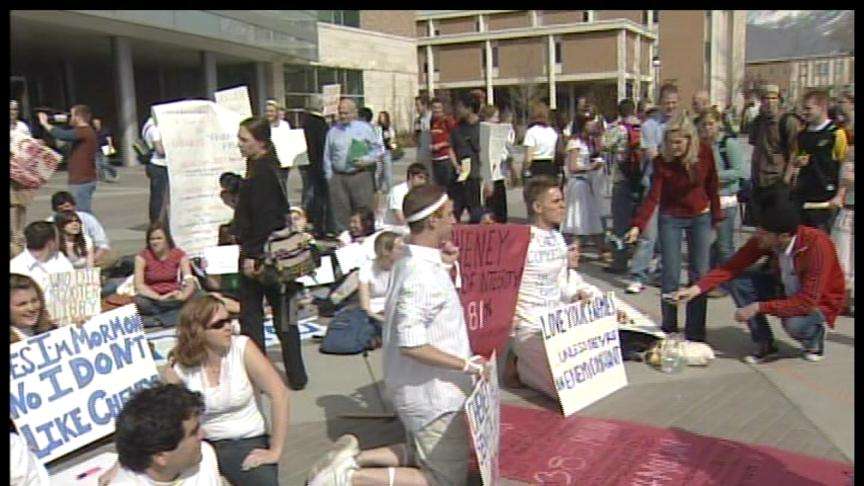 Both sides say they're happy to have the dialogue and that they think it's healthy, despite the fact that their opinions regarding the vice president and the administration are sharply divided.
A new Survey USA poll for KSL-TV of 500 Utahns finds that 58 percent think he is an appropriate pick while 33 percent do not. The vice president is a polarizing figure even in this reddest of red states. Asked how history will view him, 63 percent say he'll rate as average. One in ten say he'll be viewed as one of America's greatest vice presidents while 25 percent say he'll go down as one of the worst.
The vice president speaks at BYU on April 26. Protests and rallies on both sides are expected to be in attendance, both on and off campus.
×
Most recent Utah stories