Estimated read time: 2-3 minutes
This archived news story is available only for your personal, non-commercial use. Information in the story may be outdated or superseded by additional information. Reading or replaying the story in its archived form does not constitute a republication of the story.
SALT LAKE CITY -- A brand-new newspaper hit the streets Monday, and it really is the "street edition." It's called "Salt Lake Street News" and it's being sold by people who have lived on the streets.
In an era of dying newspapers, this one is designed to give a new life to the people selling it: the homeless, and people who know what the homeless life is all about.
John Wilkes was homeless for several years. Lately he's getting back on his feet, living in government-subsidized housing.
"I don't want anyone to feel sorry for me," Wilkes said. "I've worked pretty hard the last year and things have gotten a lot better."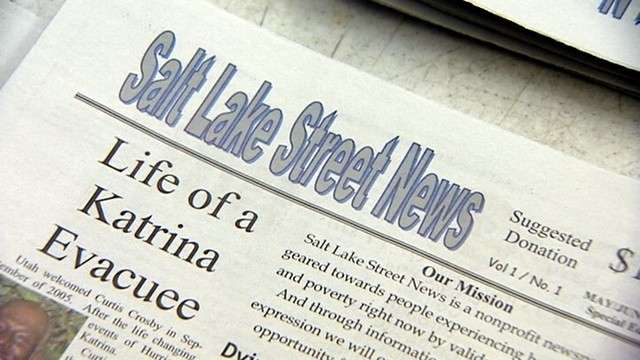 When the new newspaper hit the street, Wilkes was first in line to buy copies and start selling.
The "Salt Lake Street News" will be published monthly by a Christian agency called the Salt Lake City Mission.
"The homeless are used to actually sell the paper and generate an income for them and also to help curtail panhandling," said Brad Jaques with the Mission.
"To me it's not making a big difference, because I do have another income, but it's a cause I believe in," Wilkes said.
The idea of a street newspaper emphasizing poverty issues has been around for generations and has taken off in the last 20 years. Street papers exist now in 200 cities worldwide. The street vendors buy the paper for 50 cents and sell it for a dollar.
"Also it's to help educate the public about the plight of the homeless," Jaques said.
"The Street News" features stories about the homeless, poverty issues and agencies that help. Wilkes hopes readers will try to put themselves in his shoes.
"Well I don't think they can, but yeah, I definitely think they should because there's a lot of misconception about the majority of homeless people doing nothing to help themselves," Wilkes said. "This is proof that just isn't so."
Wilkes ran into a hassle selling the paper late Monday afternoon outside the city library. He told KSL a security guard confronted him and called police, but they left without making an issue out of it.
The Mission says city attorneys OK'd the sales as long as it's on a public sidewalk.
E-mail: hollenhorst@ksl.com
×
Photos
Related links
Most recent Utah stories