Estimated read time: 1-2 minutes
This archived news story is available only for your personal, non-commercial use. Information in the story may be outdated or superseded by additional information. Reading or replaying the story in its archived form does not constitute a republication of the story.
Sam Penrod ReportingA prescription drug ring investigation led Midvale police to, of all places, a doctor's office! Detectives say the ring-leader worked as a secretary in that office. Police were tipped when a pharmacist noticed the same patient coming into the pharmacy repeatedly for a Lortab prescription. That's when police got involved and found out what was going on.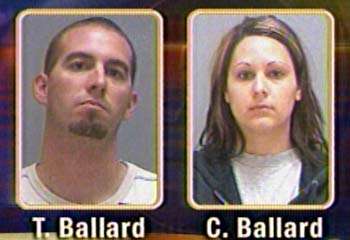 Detectives say that a woman who worked as a secretary for a doctor in the Salt Lake Valley used a scheme of where she would put in prescription requests to a pharmacy and then use her connections inside of the doctors office to provide fake prescriptions for the pain killers to at least four people. And investigators say that she did this as many as 70 different times, and in all, more than 42 hundred Lortab pills were distributed illegally.
Det. Scott Nesbitt, Midvale Police Dept: "She is no different than any other drug dealer even though she didn't physically handle the drugs to sell them, she provided a way for people to get illegal drugs. And they are addicting and they are dangerous too, and people can overdose on pain medication. And it was easy for her, working for a doctor; the doctor had no idea."
Police arrested 23-year old Cathryn Ballard, she was the secretary for the doctor. 26-year old Travis Ballard was also arrested. They both face various charges of prescription forgery, and possession of a controlled substance.
Investigators say it is possible that more arrests could be made, but again make it clear that the doctor had no idea what was going on and is not suspected of being involved. The woman is no longer employed there.
×
Most recent Utah stories