Estimated read time: 3-4 minutes
This archived news story is available only for your personal, non-commercial use. Information in the story may be outdated or superseded by additional information. Reading or replaying the story in its archived form does not constitute a republication of the story.
SALT LAKE CITY -- An Idaho man is enjoying a better life, thanks to a new Utah-made heart pump.
Doctors call it a big leap forward; the patient calls it a life-saver.
What is ... heart failure?
Heart failure is a condition of the heart in which the heart muscle becomes weak, requiring the heart to work harder to pump blood through the body.
Doug Wiley had multiple heart failures during the past year that threatened to kill him. After receiving only the fourth U.S. implant of a Levacor ventricular assist device, or VAD, he left the hospital Thursday excited about life again.
"I feel good," says the 44-year-old. "I feel like I have more energy, I have more oxygen going to my brain than I used to."
Wiley cannot wait to play with his daughter and ride his motorcycle again. He's ready to leave the hospital and get on with living.
By the numbers ... heart failure

• There were 2,163 heart transplants performed in the United States in 2008 and 2,210 in 2007.
• In the United States, 72.4 percent of heart transplant patients are male; 65.5 percent are white; 19.4 percent are ages 35-49 and 54.2 percent are age 50 or older.
• As of June 5, 2009, the one-year survival rate was 88.0 percent for males and 77.2 percent for females; the three-year survival rate was about 79.3 percent for males and 77.2 percent for females. The five-year survival rate was 73.1 percent for males and 67.4 percent for females. American Heart Association
Doctors at the University of Utah Hospital implanted a fourth-generation WorldHeart ventricular assist device into Wiley on St. Patrick's Day. Since then, Wiley's worked to regain his strength.
"Before, I had very little energy, didn't feel like doing nothing, had a real hard time talking to people. I was real cloudy," says Wiley.
Wiley's heart only pumped 15 percent of the blood he needs. The Levacor pump now does most of the work for his weakened heart.
His cardiothoracic surgeon, Dr. Craig Selzman, says the new technology enables thousands of patients to live longer while they await a heart transplant.
"Things really have really evolved," says Dr. Selzman. "That's what is really cool for us, because we want to be part of the evolving technology."
The generational jump in this WorldHeart device lies in the magnetic levitation within the pump. That enables the blood to be pumped more gently and more efficiently, and helps avoid clotting in the blood.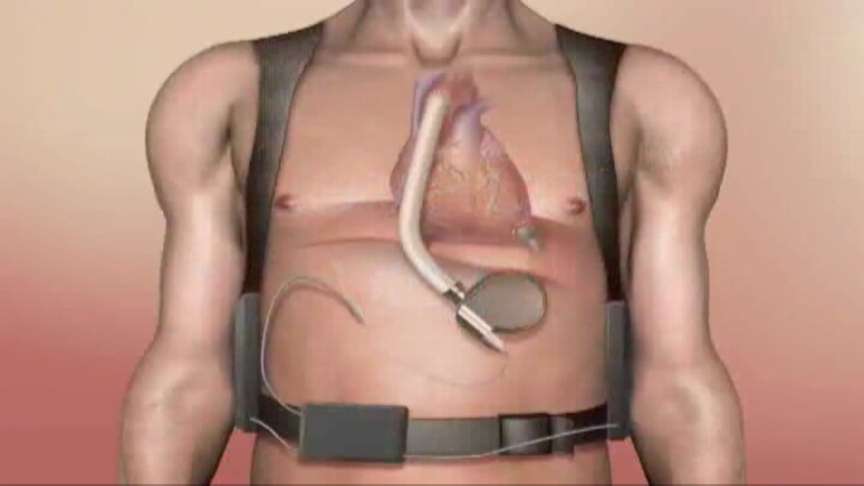 "It spins by having a magnet that levitates," says Dr. Selzman, "which means there are no fixed moving parts. The important thing, with that in mind, is that one of the main risks when we first started putting these things in were blood clot formation, and that can lead to stroke."
The surgeon connects the VAD to the apex of the heart. The Levacor draws blood from the heart chamber and increases the flow of blood around the heart to the aorta. The pumping assistance improves the blood output of the weakened heart.
Utah has a thriving medical device industry, and WorldHeart's CEO says the company continues to improve the heart pump.
"This is for bridge to transplant, but ultimately our goal is to focus on the patients who will have the devices for the rest of their lives," says Alex Martin, WorldHeart CEO.
Did you know ... ?
On Dec. 2, 1982, the University of Utah implanted Barney Clark with an artificial heart called Jarvik 7. Clark was the first human recipient of a permanent artificial heart.
Wiley awaits a heart transplant, but while he does, he can live with the Levacor. The battery and controller are very compact.
"I can tuck it all into this sweatshirt like this, and nobody even knows I have anything," he says as he stuffs two small units into his sweatshirt pouch. "I can go walking around and people don't even know I have a part of an artificial heart thing going on."
Wiley will stay at a recovery home in Salt Lake for a few weeks before heading back to Boise.
The University of Utah Hospital is only the second center in the country to implant the new VAD. It's part of a clinical trial that will evaluate how well it works as a bridge to a heart transplant.
E-mail: jboal@ksl.com
×
Photos
Related links
Related stories
Most recent Utah stories