Estimated read time: 3-4 minutes
This archived news story is available only for your personal, non-commercial use. Information in the story may be outdated or superseded by additional information. Reading or replaying the story in its archived form does not constitute a republication of the story.
SALT LAKE CITY -- The family of a man who died after being tased by police filed a lawsuit Thursday.
They accuse police of inappropriately using the device -- twice -- on an unarmed, naked man.
Scientist Brian Cardall died alongside a highway in Southern Utah last June while suffering from an episode of mental illness.
---
"He's thinking he is directing traffic. He has full-blown lost it," Brian's wife Anna told dispatchers. "He's got a mental illness."
---
Karra Porter, attorney for the Cardall family, said, "There are a couple of children here who no longer have a father providing financial support for them."
The Cardall family expects financial compensation if they win to support the children Brian Cardall left behind, if nothing else.
But that's not the reason they filed suit. The number one reason, they say, is to change police procedures.
The widow, children and parents of Brian Cardall filed the lawsuit Thursday. They allege that his federal civil rights were violated, but mainly they want to show that what police did was inappropriate under the circumstances that unfolded along the highway.
Brian Cardall was a well-regarded scientist at Northern Arizona University. He was also being medicated for occasional psychiatric problems.
Last June, police encountered him running along the highway just outside of Hurricane, Utah. His wife Anna called 911 for help.
"He's thinking he is directing traffic. He has full-blown lost it," she told dispatchers. "He's got a mental illness."
The dispatcher responded, "Is he on meth, you said?"
"No, mental illness," Anna clarified.
"OK" the dispatcher replied.
The family's attorney says what happened next was an inappropriate way to handle an episode of mental illness.
On the 911 tapes released by the family, Brian Cardall can be heard saying to officers, "Is this is a standoff? Don't shoot me, man!"
Hurricane police officers began yelling, "Police officer! Get down on the ground! Down on the ground!"
At that point, Brian Cardall can be heard screaming as officers tased him. An officer says, "4x15 Taser deployed."
Porter said, "I mean, you're talking about two big cops there that tased a naked, harmless guy, which causes his death."
The family believes that, even after making a decision to tase, police could have saved Cardall's life. They hit him with the Taser 42 seconds after they arrived -- then, two seconds later, they tased him again.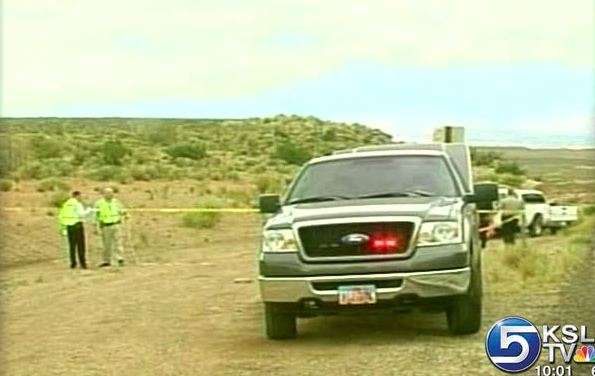 "They didn't attempt CPR or even check to see whether he was breathing and just left him lying there," Porter said.
The family says the goal of their lawsuit is to push police departments to devise better procedures and training for the use of Tasers.
"The family has consistently expressed concern about the over-use of Tasers and particularly in circumstances like this where no one claims they thought Brian had a weapon," Porter said. "Everyone knew he was simply experiencing a mental episode. I mean, this could happen to anyone driving along that roadway. And that's the kind of thing that's got to stop."
The lawsuit also claims police took Anna Cardall to the jail for an extended period of interrogation without saying her husband was dead.
"She asked at one point if she could go out to her car to get a diaper for her baby, and they said no," Porter said.
According to the lawsuit that was an illegal detention because she was not suspected of any wrongdoing.
"It was definitely against her will and was completely inappropriate and illegal, as well as insensitive," Porter said.
The Washington County Attorney ruled the tasing was "reasonably justified" in their actions. That view was echoed Thursday by Peter Stirba, the attorney representing the Hurricane Police Department.
"This is a very tragic circumstance for both sides," he said. "I think it will be a very, very difficult case to litigate, but we're confident at the end of it after all the evidence is in that our officers will have been vindicated and that their actions will have been found to be reasonably justified and, as the Washington County attorney found, they acted totally consistent with their training."
E-mail: hollenhorst@ksl.com
×
Related links
Most recent Utah stories