Estimated read time: 2-3 minutes
This archived news story is available only for your personal, non-commercial use. Information in the story may be outdated or superseded by additional information. Reading or replaying the story in its archived form does not constitute a republication of the story.
Sam Penrod Reporting A donor today presented a rare artifact to The Church of Jesus Christ of Latter-day Saints. It's a leather wallet that belonged to a key figure in the earliest history of the church.
The wallet belonged to Martin Harris, the man who financed the printing of the Book of Mormon in 1829, and the wallet is believed to have contained the $3,000 he paid to the printer. It's been in the Harris family ever since, and today his great great grandson presented it to the Church's Museum of History.
This leather wallet is one of the only artifacts tied to Martin Harris who was instrumental in publishing the Book of Mormon. Harris befriended church founder Joseph Smith and mortgaged his farm for $3,000 thousand dollars to finance the printing.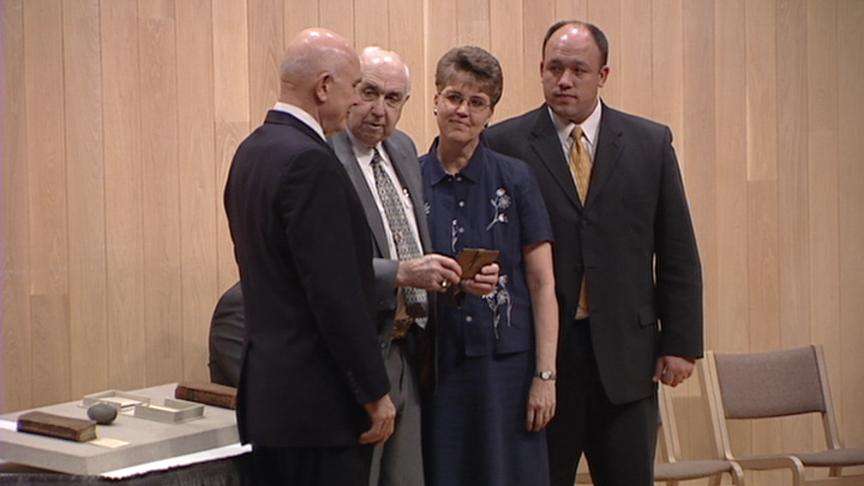 The wallet has been passed down in the Harris family. Russell Martin Harris acquired it in 1964. "My son and grandson and I decided rather than to pass it down any farther, to just put it in the museum where everybody could come and see it," Russell Martin Harris said.
The wallet was accepted by Elder Dallin Harris Oaks, a great great nephew of Martin Harris. "We have good providence on it. It's been in the family through several generations, and we're thrilled to have it in the collections of the Church," Elder Oaks said.
The wallet will become just the third artifact of Martin Harris in the church museum's collection. "This is probably by far the most significant Martin Harris artifact we have," said Richard Oman, curator, Church Museum of History and Art. "He was quite prosperous. He was one of the most prosperous people in Palmyra, and he could afford a very nice wallet, and it was made by somebody who was very skilled."
Harris had a falling out with the church but eventually rejoined the faith. When he moved to Utah in 1870 he came with only a cane and the wallet. "Lost is the fact that he was probably the most significant financial benefactor of the church in its first century of existence, putting up what was then an enormous sum of money in order to publish the Book of Mormon," Elder Oaks said.
The family and church say you can't put a price on what the wallet would be worth. But to put it in perspective just yesterday in New York a first edition copy of the Book of Mormon and an early church hymn book sold for $180,000 a piece.
×
Most recent Utah stories