Estimated read time: 2-3 minutes
This archived news story is available only for your personal, non-commercial use. Information in the story may be outdated or superseded by additional information. Reading or replaying the story in its archived form does not constitute a republication of the story.
(KSL News) -- As the hurricane refugees look for new jobs and new schools, some will also be looking for new churches to attend.
Religious leaders wanted them to know they should be able to find a place to worship here, whatever their faith.
"Singing Hallejuh... Hallejuh"
It was a packed house for church at Camp William's chapel late this afternoon. Community members came out in force to welcome flood evacuees.
Reverend France Davis, Calvary Baptist Church: "We feel for each of you."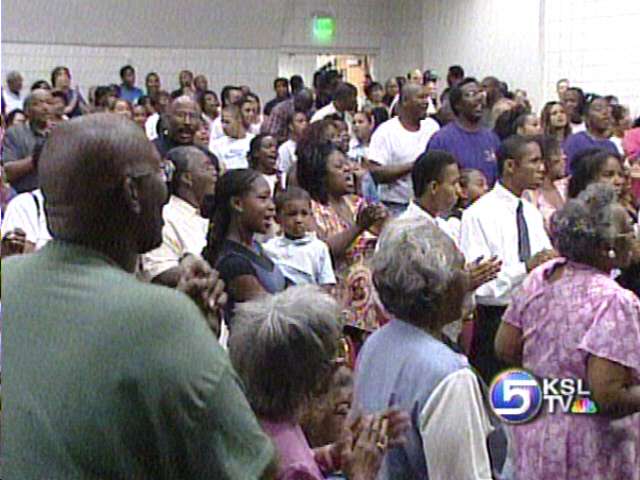 Mr. Herbert, New Orleans Evacuee: "This is love. They showed us so much love here. Welcome to Utah. I want to stay."
Reverend France Davis from Calvary Baptist Church led the group through the 23rd Psalm.
Reverend France Davis, Calvary Baptist Church: Yeah though I walk through the valley of the shadow of death, I will fear no evil, for Thou art with me."
Various church members across the valley had the hurricane victims on their minds as well. At Salt Lake Christian Center the congregation prayed for the relief efforts and the victims.
"We pray for those that have been displaced, O God. That you would minister to them with comfort and peace."
Church-goers also gave donations for supplies.
Chad Golay, Associate Pastor, Salt Lake Christian Center: "This church supports convoy of hope, which is an Assemblies of God Ministry. And convoy of hope provides water, food and assistance in whatever is needed in that area."
At the Cathedral of the Madeleine, clergy wanted people to know God was present... even in the midst of disaster.
Deacon Lynn Johnson, Cathedral of the Madeleine: "Evil, suffering, pain are not God's ideas. But God does permit suffering."
Melissa Sillitoe, Parishioner: "It's really good to come together as a church and try to think about what you can do to make the world a little bit better."
Parishioners here also focused on giving and prayer.
Deacon Johnson: "People are sending money to the cathedral, to the Diocese of Salt Lake City, they're handing us checks and money on the street."
Melissa Stillitoe: "I think it means something to the people of Louisiana to know there are people who are praying for them and thinking of them right now."
For those evacuees at Camp Williams, the joyous welcome couldn't leave any doubts...
" Let it shine, let it shine, let it shine"
The LDS church also dedicated its weekly TV program "Music & the Spoken Word" to the victims and families of hurricane Katrina.
×
Most recent Utah stories