Estimated read time: 3-4 minutes
This archived news story is available only for your personal, non-commercial use. Information in the story may be outdated or superseded by additional information. Reading or replaying the story in its archived form does not constitute a republication of the story.
SALT LAKE CITY -- The Salt Lake City Council has approved ordinances making it illegal to fire or evict somebody because of sexual preference. The measure received endorsements from The Church of Jesus Christ of Latter-day Saints.
On Capitol Hill there is interest, but nothing yet in writing, to either push or block a gay non-discrimination ordinance statewide. People are talking about it, but Senate President Michael Waddoups doesn't want to rush.
He says, "I would like to step back and say what's going on? What's best? Lets approach this from a reasoned point of view."
Some legislators want statewide policy
Utah's openly-gay legislators say the state should follow Salt Lake City's example.
Related:
"Not all the gay people live in Salt Lake City. Not all the gay people in Utah are discriminated against just in Salt Lake City. If this is good and right in Salt Lake City, it seems to me, intuitively, it makes sense that we should extend these protections to everyone in the state," says Sen. Scott McCoy.
McCoy hopes to take momentum to the State Legislature, and Rep. Christine Johnson says she plans on continuing her push for anti-discrimination laws statewide. But that push for similar state laws is not without its controversy.
Sutherland Institute calls ordinance a threat to meaning of marriage
The Sutherland Institute, an independent, conservative state-based, public policy organization issued a statement Tuesday applauding the Church's "desire to keep cultural and political tensions to a minimum," but called it a problematic policy statement.
The Sutherland Institute says Salt Lake City's new anti-discrimination ordinances were crafted in a way that paves the way toward gay marriage.
The institute's public affairs manager Stan Rasmussen says they have no problem with the LDS Church speaking out in favor of the ordinances, and they too don't want any group to be discriminated against. However, he says the institute reaffirms its opposition to any ordinance that uses terms such as "sexual orientation" and "gender identity."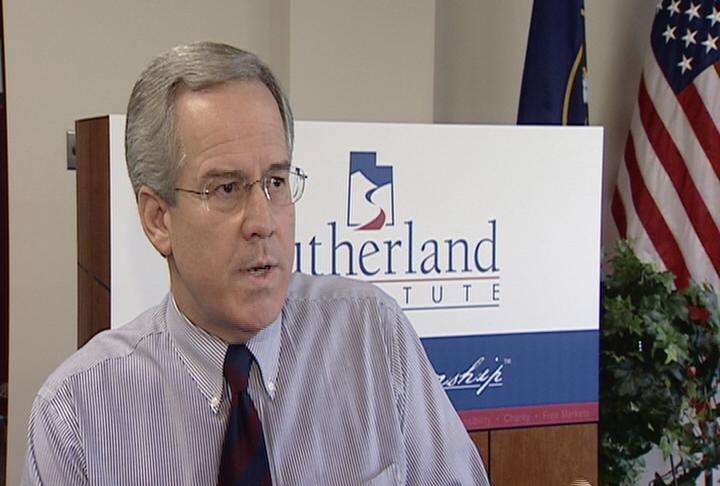 Rasmussen says ordinances using these terms are more than a slippery slope, they're a step ladder toward the legalization of gay marriage.
"Some of those steps that were taken in California match efforts that are now being undertaken in Salt Lake City," Rasmussen says.
He says these ordinances are creating a protected class of citizen based on behavior.
The Sutherland Institute says it will strongly encourage the Legislature to take a close look at Salt Lake City's new ordinances and pass laws to reverse them.
You can read the Southerland Institute's full reaction the new ordinances and their thoughts on the LDS Church's statements here.
The LDS Church support for the ordinance could affect future debate on the topic. Waddoups said, "I believe the Church's statement will allow a more free flow of ideas."
It will be a fight for those who want to pass a Salt Lake City-like non-discrimination policy statewide. But now, it appears there might be a fight to oppose one too.
------
Story compiled with contributions from Randall Jeppesen and Richard Piatt.
×
Related stories
Most recent Politics stories