Estimated read time: 3-4 minutes
This archived news story is available only for your personal, non-commercial use. Information in the story may be outdated or superseded by additional information. Reading or replaying the story in its archived form does not constitute a republication of the story.
SALT LAKE CITY -- Utah's colleges and universities are coming together to sent a strong message to the Legislature. They're urging lawmakers to raise taxes, if necessary, in order to avoid devastating cuts across the state.
Here's the stark reality: The Utah Legislature cut higher education by 17 percent earlier this year, at the same time enrollment went up by more than 24,000 students statewide. The situation is serious enough that the State Board of Regents is asking lawmakers to consider raising taxes.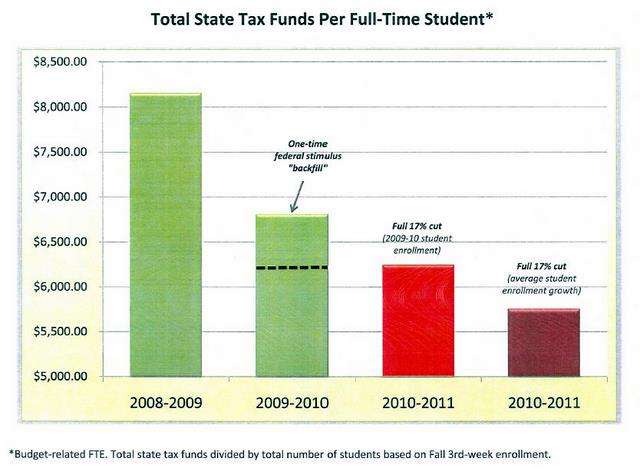 Affordable, accessible, quality education is Salt Lake Community College's mission. SLCC's president says that mission is now in danger of changing for the worse.

"It is dramatic, and we are at the breaking point," says President Cynthia Bioteau.

From Dixie State to Utah State University, Utah's colleges and universities are all facing the same thing. It's a critical tipping point in the face of cuts that are, for now, held off by stimulus money but set to take full effect next June.

Even now, though, students are noticing it's hard to get the classes they need to graduate on time.

**By the numbers… Utah's Higher Education**

• 9 public universities and colleges • 164,860 students • 29,933 employees • 35,000 degrees and certificates granted annually

"Because of the class cuts, I'm not able to take the classes when I need to take them," says University of Utah student Sarah Day. There are other signs too, like missing supplies and limited access to programs. Behind the scenes: layoffs and faculty salary freezes and cuts. The question to the board of Regents Friday: How bad does it need to get before something drastic is done?

"Why are we even approaching higher ed as a solution to budget cuts? Is that really the place to cut money? And it is not," says University of Utah student Taylor Clough.

**Did you know…**

• The lifetime earnings of a college graduate (on average) are double that of a high school graduate • According to Dept. of Workforce Services, this year 75% of Utahns filing for unemployment claims have a high school degree or less. Only 15% have a college degree • Each year's crop of college graduates contributes approx $500 million annually to the state's economy in increased wages

Educators think they may need to the Legislature for some kind of tax increase. By resolution, the state's Board of Regents agrees and is planning to urge lawmakers next year to pick these options: - Use some of the rainy day fund - Restore the sales tax on food - Use gas tax money, now dedicated to highway construction, for education - Raise taxes on alcohol and cigarettes

Another tuition increase would be devastating to students.

"Can we please -- and I know it's very controversial -- but can we please look at some sort of tax increase in revenues?" Bioteau asks.

University and college presidents say they've already cut where they can, but they'll trim more if possible. Most, however, are to the point where the only way to make up for the lost ground is to get more money.

E-mail: rpiatt@ksl.com

×
Related links
Most recent Education stories