Estimated read time: 3-4 minutes
This archived news story is available only for your personal, non-commercial use. Information in the story may be outdated or superseded by additional information. Reading or replaying the story in its archived form does not constitute a republication of the story.
AMERICAN FORK -- The Navajo Nation is getting connected to the world. A big project announced Thursday will give one of the West's most remote populations a flying leap into the 21st century.
The federal government is investing more than $32 million in stimulus funds to help the nation's largest American Indian reservation, the Navajo Nation, build a high-speed Internet highway that will connect thousands of homes and businesses across the sprawling reservation.
What is... the Navajo Nation?

The Navajos are the largest and most populous Native American nation with about 270,000 members, of which 165,614 live within the Navajo Nation borders. Spanning Arizona, New Mexico and Utah (San Juan County), the Navajo Nation covers 17 million acres (approx. 26,110 square miles) and constitutes one-third of all Indian lands in the lower 48 states.
The announcement was made in Washington by a member of President Obama's cabinet, Commerce Secretary Gary Locke. He said Navajo communities in New Mexico, Arizona and Utah will benefit.
As it happened, Dr. Joe Shirley, president of the Navajo Nation, was visiting Utah County when that announcement came.
"Well, I'm just exhilarated! Just happy!" Dr. Shirley said. "You know, this is what we've been working on, what we wanted for a long time."
This is one of the biggest steps forward ever, for a very big place. The 27,000-square-mile Navajo Nation is a gigantic hole in the technological grid. Locke says 60 percent of homes on the reservation lack basic telephone service and many Navajo communities have unemployment levels that exceed 40 percent. Now, the federal stimulus money will get them online and on the phone. It's mostly barren desert, but 200,000 Navajos are scattered across this scenic region. Most don't have landlines, let alone cell phones and the Internet.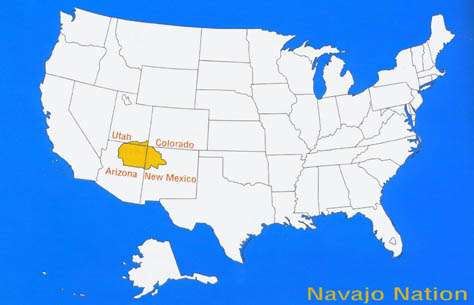 Still, Navajo kids are eager to join the technological world and are highly capable, according to Michelle Scott, vice president of Certiport. She explained, "[They have] an innate and extraordinary ability to learn computer skills like no one else I've ever seen and worked with."
Certiport has been working in a partnership with Dr. Shirley. For five years, they've been teaching computer literacy in Navajoland, even though Internet and cell phones are largely non-existent.
"The Navajo Nation, they say, is 30 years behind the times with not only this, but also in some of the other areas," Dr. Shirley said. "And we're trying everything we can to get caught up."
Locke says Navajos are stuck on the wrong side of the digital divide, and the grant will help fix that. Once all the fiber optic cables are in place, officials say affordable broadband service will be accessible to 30,000 homes, one thousand businesses and 1,100 community institutions -- in total, schools, medical facilities and government buildings in 49 communities.
---
60 percent of homes on the Navajo reservation lack basic telephone service and many Navajo communities have unemployment levels that exceed 40 percent. -Dept. of Commerce
---
Now, they're getting a big boost from federal stimulus funds. They will pay for 59 new or improved microwave towers and 96 fiber optic cables, spanning 550 miles. They'll stretch across three states and stitch together a Navajo network of cell phones and high-speed Internet.
"By having that connectivity, the individuals will be able to talk with everyone across the globe," Scott said.
"We have to interconnect and communicate with the world outside in order to survive on Navajoland itself," Dr. Shirley said. "And to do that, I know we need telecommunication services."
Dr. Shirley does not expect traditional Navajo culture and sacred land to impede the new technology or the new towers.
"We'll talk to the elders, the medicine people. They tell us, 'You can't go there,' we respect that," he said.
------
Story compiled with contributions from John Hollenhorst and the Associated Press.
×
Related links
Most recent Utah stories