Estimated read time: 2-3 minutes
This archived news story is available only for your personal, non-commercial use. Information in the story may be outdated or superseded by additional information. Reading or replaying the story in its archived form does not constitute a republication of the story.
SALT LAKE CITY -- A clever advertising campaign has brought more tourists to Utah over the past few years. Now the governor's office is going to try the same approach to attract new businesses. It's a $1 million campaign that's already seeing results.
---
The goal of the campaign is to create a list of 1,000 companies and executives that have interest in bringing a presence into Utah. -GOED
---
"We're building upon the great tourism marketing that we've done as a state for many years, says Derek Miller, managing director for business and economic growth at the Governor's Office of Economic Development.
"For the first time," Miller adds, "the state is going to start marketing that we're not just 'Utah is a great place to visit,' but as a great place to stay and to do business."
This past week, the West Coast editions of the Wall Street Journal featured an ad, which reads: "Instead of looking for good news in the financial section, try looking in Utah."
It's an eight-week campaign, with a different half-page, full-color ad appearing each Tuesday. Still to come: "You know the saying 'When the going gets tough, the tough get going?' Here's where they go."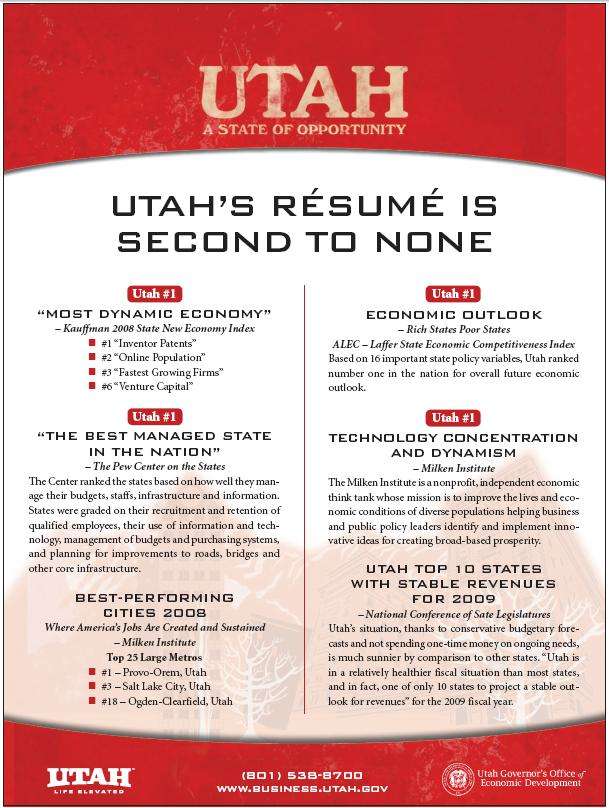 There's also: "Business success hinges on location, location, location. A reminder from the folks in Utah, Utah, Utah."
The governor's economic development office collaborated with Salt Lake advertising and marketing firm Richter7 to create these ads.
"We want our ad to stand out," Peggy Lander, partner in Richter7. "We also want to build a very strong brand for Utah. So by having a little bit of fun and humor, it builds a very likable brand."
Such as the one that's developed in recent years with Utah's "Life Elevated" tourism campaign. It's eye-catching, clever, informational and, at times, funny.
---
Utah boasts the youngest workforce in America at 28 years old, and with a half-million children in K-12, the state has several decades of powerhouse success ahead of it. -GOED
---
The business campaign will have a similar feel, and the message will be strong. The cover of a brochure that will publicize the campaign reads: "From up here, you can see the economic recovery!"
Despite the current challenges with the economy, Utah is seeing a number of companies relocating or expanding in the state. This new campaign is designed to keep that trend going.
"Proactive is just the right word to use because there's the organic growth -- which is growing companies right here in the state, which is so important. But we can't stop there. We've got to be proactive in bringing new business to the state as well," Miller says.
The campaign has already generated some interest, and the governor's economic office is already setting up meetings with companies in California to discuss future plans.
"All we want to do is attract their attention for a brief moment and inspire them to call us," Lander says.
E-mail: kmccord@ksl.com
×
Photos
Related links
Related stories
Most recent Utah stories