Estimated read time: 4-5 minutes
This archived news story is available only for your personal, non-commercial use. Information in the story may be outdated or superseded by additional information. Reading or replaying the story in its archived form does not constitute a republication of the story.
RENO, NEV. -- Junior guard Jahmar Young scored 19 points to lead the New Mexico State Aggies past the top-seeded Utah State Aggies, 69-63 in Reno Saturday night. New Mexico State snapped Utah State's 17-game winning streak and 16-game conference winning streak. Utah State Senior guard Jared Quayle hit 25 points, but New Mexico State beat Utah State in the paint, pressured the ball to force turnovers, and shot the ball just well enough in the second half to win the game.
"We did the things we needed to do defensively and I think the ball pressure and the stick-to-itiveness is a word I would use in terms of our staying in the game and not getting rattled we're part of the key elements that led us to a victory," New Mexico State Head Coach Marvin Menzies said.
Related:
Utah State did not share the ball well, did not get the bench production it normally gets, and did not play the defense it normally plays. Despite the loss, Utah State Head Coach Stew Morrill said his team deserves an at-large bid to NCAA Tournament and at least one bracket predictor agrees with Morrill.
Coach Morrill was very complimentary of New Mexico State, "Congratulations to New Mexico State. I thought the second half they did a really good job getting some turnovers, getting baskets off of turnovers, shooting a high percentage. We lost to a real good team."
New Mexico State scored 36 points in the paint, while the Aggies scored just 26. New Mexico State forced Utah State into nine turnovers, which wouldn't have been a big issue except for the fact that Utah State only dished out 14 assists and New Mexico State scored 11 points of Utah State's nine turnovers.
Neither team shot well during the first half, however New Mexico State led, 28-26 at half. In the second half, New Mexico State poured on the offense, hitting 62 percent of its shots from the field and 40 percent from 3-point land. Utah State shot well from the field in the second half, shooting 51 percent from the field, but only hit 28 percent from the 3-point arc.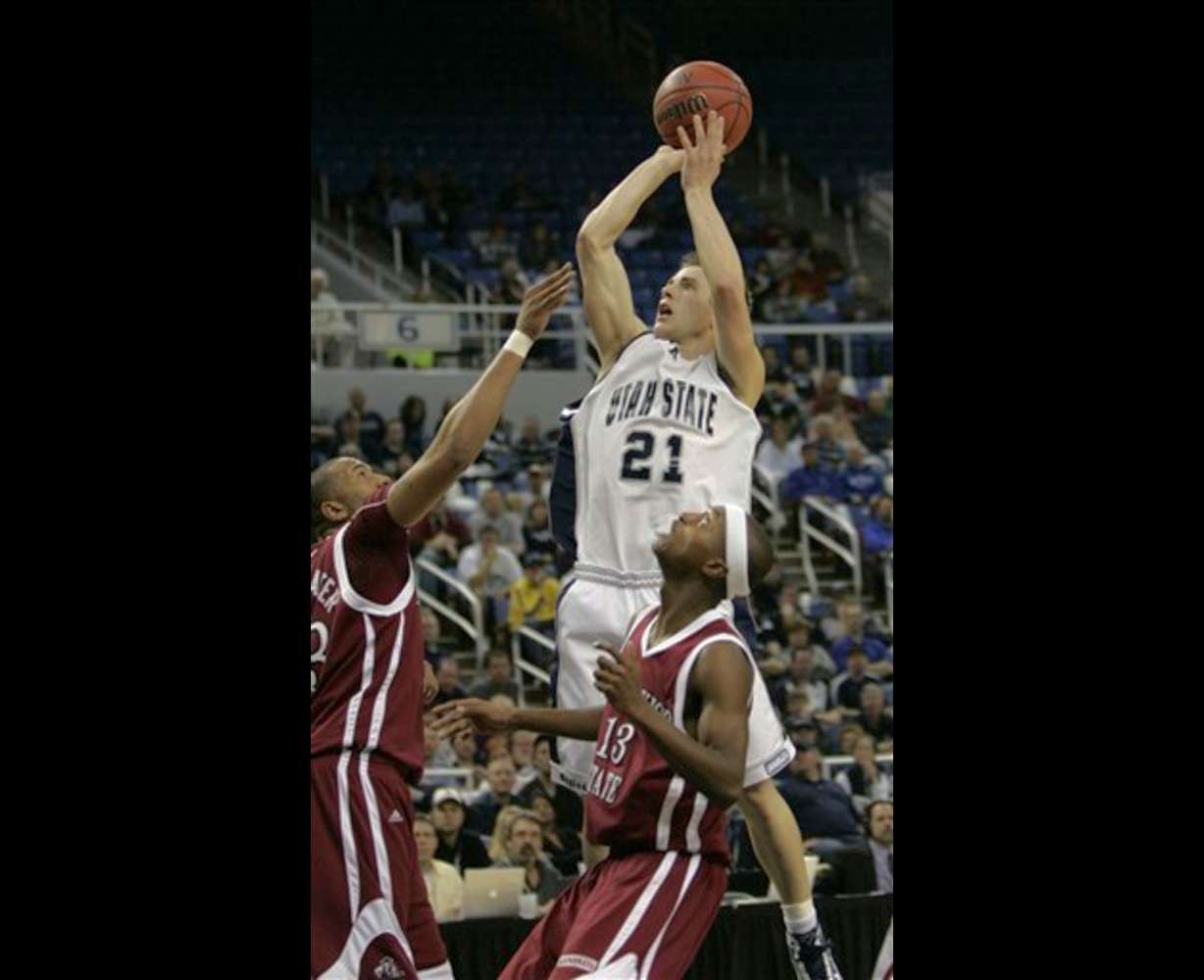 What really kept New Mexico State ahead was its ability to deny Utah State offensive runs. Each time Utah State would score and try to start a run, New Mexico State would answer and Coach Morrill was not surprised.
"We knew we were in for a really tough game and they did a good job. They just kept answering runs," Morrill said. "They've got a lot of guys that can make plays. They have a lot of weapons. Their wings are very explosive scorers. (Troy) Gillenwater, inside makes them a different team since they got him," Morrill said.
Jonathon Gibson scored 14 points and Gillenwater came off the bench and scored 15 points. Gillenwater hit three of those points with 4:23 left in the game that gave New Mexico State the lead for good. Gillenwater earned an All-Tournament Team spot and Young was named the Tournament MVP. Quayle along with Utah State junior forward Tai Wesley made the All-Tournament team as well.
Wesley finished the night with 13 points and 12 rebounds, and junior forward Nate Bendall had 16 points.
The media at the WAC Tournament has been relentless in asking Coach Morrill whether he thinks that his team should be in the NCAA Tournament. On the eve of Selection Sunday, Coach Morrill made one last adamant statement.
"If we don't get in, it makes it really tough on mid-major leagues. What do you half to do to get in? Does it say that your league is just a one-bid league no matter what? I don't believe that if you are a top ten league. I can't believe that," Morrill said. "If you look at our body of work we should be in. There's no question about it. Hopefully they (NCAA Selection Committee) come out with the right decision and that's to put us in the tournament."
ESPN's Bracketology expert Joe Lunardi has predicted that the Utah State Aggies will make the NCAA Tournament as an at-large bid despite their championship loss to New Mexico State. Lunardi's predictions put Utah State as an 11 seed and New Mexico State as a 13 seed.
It is obvious that Utah State would have rather not left their NCAA Tournament fate up to the selection committee. The Aggies were snubbed in 2004 when it was ranked No. 22 and lost to Pacific in the Big West Tournament. However, Utah State received an at large bid in the 2006 NCAA Tournament after losing to No. 21 Nevada in the WAC Tournament.
With all the factors that decide whether the NCAA Selection Committee offer a team an at-large bid, Utah State will be forced to wait till 4 p.m. when CBS announces the 2010 NCAA Tournament Brackets.
×
Related links
Most recent Utah stories