Estimated read time: 2-3 minutes
This archived news story is available only for your personal, non-commercial use. Information in the story may be outdated or superseded by additional information. Reading or replaying the story in its archived form does not constitute a republication of the story.
OREM -- A professor at Utah Valley University suffered a heart attack on Wednesday while giving a lecture. Quick thinking by his students, and new technology brought by paramedics likely saved his life.
"He was teaching his class like normal and then all of the sudden, he rested himself on the podium and kind of went into a daze," said UVU Student Kyle Gardner. He called 911 while other students sat their professor on the ground.
Orem paramedics arrived and, after ruling out a blood sugar problem, discovered the 59-year-old man was having a heart attack.
Getting an EKG printout gave the paramedics and doctors at the hospital critical data on the patient. Not only did it help to save his life, it may have prevented long-term damage to his heart.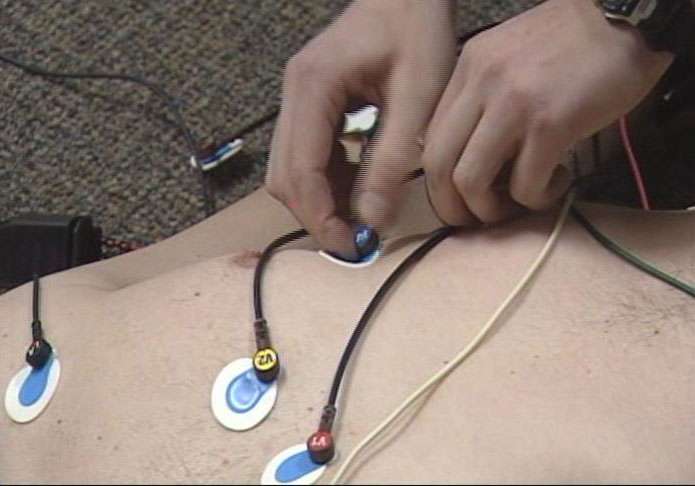 Paramedics in the Orem Fire Department are training to use a 12-lead EKG on rescue calls. That training paid off on Wednesday for the UVU professor.
Orem paramedic Alaina Burg said, "The 12-lead let us know what was going on with his heart [and] in return helped us with some of his treatment, which got him to the hospital quicker, which sped up the time in the emergency room and to get him to the cath lab."
---
"It's really nice to be able to see the effect of different things that you do, and people's lives and to be able to see the outcome," said Orem paramedic Tim Robinson.
---
Doctors were already waiting at the hospital and performed a procedure to insert stents into his arteries to open the blockage.
Paramedics believe the 12-lead EKG made a big difference in the patient's treatment.
"It was pretty huge, actually," said Tim Robinson, another Orem paramedic. "It let us know what kind of time frame we were looking at, what type of medication to give him. With this particular problem there were some medications we usually would have given him for the chest pain, but because of the location show on the EKG, we didn't give it to him and was able to keep his blood pressure up."
Paramedics say having the best tools improves the care they can provide during an emergency.
"It's really nice to be able to see the effect of different things that you do, and people's lives and to be able to see the outcome," Robinson said.
As for the professor, his students have been told he is on the way to recovery.
"He was sitting up in his bed, typing on his laptop, wanting to go home, so it's good news," Burg said.
And the news is getting better. KSL has been told the professor could be released from the hospital as early as Saturday.
E-mail: spenrod@ksl.com
×
Related stories
Most recent Utah stories