Estimated read time: 2-3 minutes
This archived news story is available only for your personal, non-commercial use. Information in the story may be outdated or superseded by additional information. Reading or replaying the story in its archived form does not constitute a republication of the story.
LEHI -- One of Utah's biggest-ever road projects -- the Mountain View Corridor -- is now underway.
The new highway will connect I-80 in Salt Lake County to I-15 in Lehi and provide a new north-south route on the west side of the Salt Lake Valley.
This first part of the project, which connects Redwood Road just south of Camp Williams to I-15 in Lehi at 2100 North, will be done in the fall of 2011.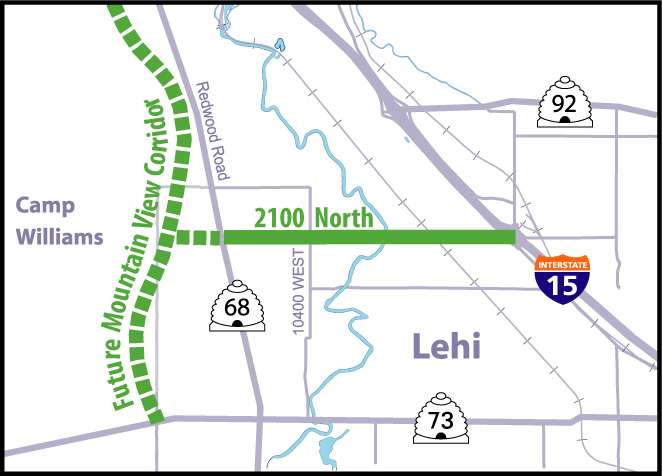 After more than seven years of talking, Mountain View Corridor is finally in the digging phase.
Scott Thompson, a Utah Department of Transportation spokesman, said, "We're excited to see it actually break ground and start work on it." He says residents in Northern Utah County will finally start seeing things happen with the much-talked about Mountain View Corridor project.
"There's been a lack of corridors to address the growing population out here," Thompson said. "We look at folks in Saratoga Springs and Eagle Mountain, they've only had one or two options to get to the east side."
Mountain View Corridor

Utah County: 2100 North
Construction on the three-mile area began Jan. 19 on 2100 North from Redwood Road to I-15. Projects include new bridges at the Jordan River, the future FrontRunner line and a set of bridges just west of the river for a community crossing. Construction is scheduled to be completed in the Fall 2011.
Now, this third option is the big one. This section of the Mountain View Corridor links Redwood Road to I-15 in a straight shot. Work on it began in the past few weeks and will continue for the next year and a half.
It's the first step in the 35-mile long road that will be done sometime in 2013. That will be two, two-lane roads -- the outside lanes in what will one day be a fully-functioning freeway.
Dave Smith, with the Mountain View Corridor Project, said "Initial construction phase is we'll build the outside lanes first to preserve the land in the middle where we can come in and build future lanes as the traffic is warranted and as funding is available."
There was talk of Mountain View Corridor being a toll road ... but that's no longer the case.
Did you know...
Mountain View Corridor
When finished, MVC will extend 35 miles north and south from 1-80 in Salt Lake County to Lehi in Utah County
MVC will add a new connection between Redwood Road and I-15 in Utah County
MVC will serve 13 cities across the Wasatch Front
MVC will include a transit line running along 5600 West
MVC will eventually be a freeway similar to I-15 with grade-separated interchanges
-UDOT
Smith said, "It will not be a toll road. Future construction will build out the freeway to full capacity, and there's no plans at this point to make that a toll road."
That's good news for west-side residents, who just want an easier way to get around.
"We're looking to get more corridors out there, more roads out here, to give them more mobility, and that's what this project is about," Thompson said.
The existing construction work is actually part of the FrontRunner South project. connecting Provo to Salt Lake City. The Mountain View Corridor road being built here will link up very nicely with the FrontRunner station, giving residents an easier way to commute back and forth.
E-mail: acabrero@ksl.com
×
Photos
Related links
Related stories
Most recent Utah stories