Estimated read time: 2-3 minutes
This archived news story is available only for your personal, non-commercial use. Information in the story may be outdated or superseded by additional information. Reading or replaying the story in its archived form does not constitute a republication of the story.
PARK CITY -- The opening ceremonies of the Paralympic Games kick off Friday in Vancouver with the first day of competition Saturday.
There's one sport not in the games that a group out of Park City is fighting to get in.
The National Ability Center cannot figure out why snowboarding has not been introduced to the Paralympic games. They say boarding can be an ideal sport for someone with a disability.
Nicole Roundy is ranked No. 2 in adaptive snowboarding -- and from the way she shreds the mountain, you would never guess she is missing her right leg below the knee.
Roundy had bone cancer when she was eight years old. She says she felt hopeless for a while after losing her leg -- but not anymore.
"When I graduated from high school, I discovered snowboarding," Roundy said. "I was confident again and I had dreams."
With her coach, Nicole has traveled the world from New Zealand to Canada, competing in different events. But it's the Paralympics she really wants to compete in.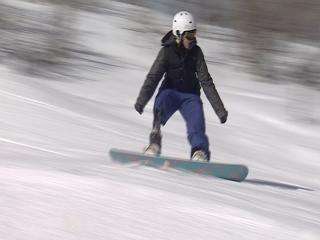 Travis Thiele of the National Ability Center said, "Snowboarding has been in the Olympics since 1998. Here we are 12 years later, and snowboarding is not in the Paralympics."
Thiele says snowboarding can be ideal for amputees: "It's a lot safer and easier to learn if we get a leg amputee to snowboard."
When skiing as an amputee, you typically have to have someone with you to help you, and you have to put all your weight on your good leg, so you run the risk of injuring the healthy limb.
In boarding, Roundy can wear her prosthetic.
"It has a spring in it," she said. "It has one function: It's not for walking, it's just for boarding."
It allows her to distribute her weight evenly between both legs when riding.
"My prosthetic is in the back, so it's like a rudder on a boat. My front foot, with the ankle I do have, is how I turn the board," Roundy said.
While she continues working on the slopes, Thiele and others with the National Ability Center will continue working to get athletes like her into the Paralympics. The National Ability Center is really trying to push board sports especially, because of its international and audience appeal.
Thiele says the upcoming 2014 games in Russia is their goal. "That's what we are aiming for," he said.
And if snowboarding is introduced as a Paralympic sport, Roundy will be going for the gold.
E-mail: abutterfield@ksl.com
×
Related links
Most recent Utah stories