Estimated read time: 2-3 minutes
This archived news story is available only for your personal, non-commercial use. Information in the story may be outdated or superseded by additional information. Reading or replaying the story in its archived form does not constitute a republication of the story.
Ed Yeates Reporting Field crews are trying to knock down a heavy population of mosquitoes in the south end of Utah county. Out of the state's six officially confirmed cases of West Nile, three are from the County's southern most communities.
When it comes to West Nile, this hasn't been a good summer for Utah County. Horses and humans have been infected. In fact, half the confirmed statewide human cases are from communities on the southern side of this county. Field crews like Steven Jensen and Chad Eagar are seeing heavy concentrations of mosquitoes, especially in this area.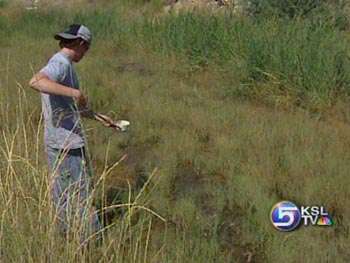 Chad Eagar, Utah County Mosquito Abatement Field Crew: "We usually find anywhere from 200 to up to the thousand range of adult mosquitoes in our trap at one period of time."
These are the rough spots right now for Utah County mosquito abatement. Acres and acres of swampy land bordering Utah Lake. High growth and sometimes windy conditions make it not so favorable to spray.
Robert Mower, Manager, Utah County Mosquito Abatement: "We have a lot of canyon breezes that come out of the canyons. Unless it's in just the right location, you're just not very effective with the spray."
Lot's of rural farmland, standing irrigation waters, and places inaccessible to spraying vehicles - it's hard to knock down all the mosquitoes.
The two most recent victims of West Nile were young people under eighteen years of age.
Katherine, West Nile Victim: "I had a whole bunch of mosquito bites up here on my arm, and I had 'em on my legs, a few, and some on my arm right here."
17-year old Katherine was bitten by an infected mosquito near her home on the east side of Genola. She was hospitalized with clear cut positive symptoms of West Nile.
Katherine: "I got really bad headaches and my eyes hurt. It hurt to look around so I would have to look straight at something so I would have to turn my head. I got really sick to my stomach, I had trouble sleeping, I couldn't eat anything."
Katherine's recovering but still feels wiped out. Physicians say these lethargic symptoms could linger for up to several months.
Robert Mower warns though summer is winding down, mosquitoes are still active and will be as long as warm weather remains. Continue taking precautions, such as using repellants outside at night.
The first frost usually ends the mosquito season. Normally that hits about the middle or end of September, but not always.
×
Most recent Utah stories