Estimated read time: 2-3 minutes
This archived news story is available only for your personal, non-commercial use. Information in the story may be outdated or superseded by additional information. Reading or replaying the story in its archived form does not constitute a republication of the story.
Jed Boal ReportingA highly trained helicopter crew plucked a stranded hiker from Mt. Olympus this morning, saving his life and saving hours of risk for rescuers. The helicopter hoist is now an irreplaceable asset along the Wasatch Front.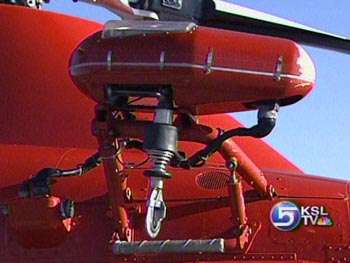 There are many ways you can get yourself into trouble in the Utah Wilderness. For many of those predicaments a helicopter hoist is your only hope and Lifeflight added that tool several years ago. What was once a new tool is now a proven asset for search and rescue in Utah.
Christopher Farrer: "Hey I lived through it (laughs)."
The FAA cleared Lifeflight to use this hoist in 2001; crews have launched nearly 100 missions since.
Christopher Farrer: "So I was very very happy when the folks from search and rescue came by."
Christopher Farrer was in over his head in Neffs Canyon. Rescuers hiked in for five hours, it would have been a long hike out with a patient.
Bill Butts directs operations at Lifeflight. Many patients need immediate evacuation from dangerous spots.
Bill Butts, Lifeflight Director of Operations: "It gets the victims off the mountain a lot quicker. It reduces the risk to the rescue organizations that would have to do this laborious hike."
It all starts with the helicopter, the Agusta, A-109 K-2 -- powerful and agile at altitude and in the heat. Crews train extensively three times a year; there's little margin for error.
Bill Butts, Lifeflight Director of Operations: "It takes a fair amount of time to come to the conclusion that this is a safe thing for us to do, that we can do it, and that it's warranted."
There's always risk for the crew as the pilot cannot see the hoist below the aircraft.
Earl Jewkes, Lifeflight Pilot: "So you have to take information from your hoist operator to maneuver your aircraft. It's a very coordinated effort between the rescuer, the hoist operator and the pilot."
Lifeflight is the only civil operation in the US to perform hoist rescue operations. So rescuers on the ground are fortunate to have that help from the air.
×
Most recent Utah stories