Estimated read time: 2-3 minutes
This archived news story is available only for your personal, non-commercial use. Information in the story may be outdated or superseded by additional information. Reading or replaying the story in its archived form does not constitute a republication of the story.
WEBER COUNTY -- A junior high school in Eden offered a new class to its students this year. It gets them out of the classroom and onto the slopes in hopes they will one day become professional skiers, and even go to the Olympics.
A handful of kids at Snowcrest Junior High School go to class in the morning, then head to the lifts after lunch.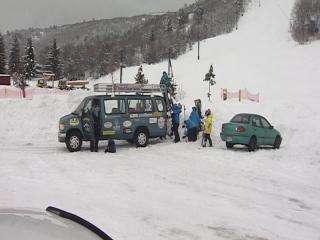 They get school credit for it, and they're becoming better skiers because of it.
It's reading, math, and Spanish class first for the students enrolled in the new Ogden Valley Winter Sports Academy.
Veldon Wardle, principal of Snowcrest Jr. High, said, "They are here for all their core classes in the morning. They miss one period, which is P.E., so essentially it's their P.E. class going up and skiing."
Once the bell rings at noon, these kids change into their winter gear, hop in a van and take a quick five-minute ride to Wolf Mountain ski resort.
Student Merrick Flygare said, "I like the school, but I'd rather be here!"
This is the first school year Snowcrest has offered this program as a class, and so far the kids love it.
---
While attending school is free, tuition costs around $3,000 per skier to pay for coaches, equipment, hill time and transportation.
---
Even though the kids are skiing, they still have to work. But student Charley Smith says it's worth it.
"We're improving every day, seeing how we're coming here every day," he said. "It really helps."
Because Snowcrest is a public school they don't pay any extra money to be here, and the kids are at all levels.
Tyler Callantine of the Snowbasin Alpine Team said, "Our mission statement is to help each athlete reach their individual potential. If it's the Olympics, we'll help them to get that point."
At least one student we talked to had that goal. He's one of the top 15 skiers in the state and hopes to make skiing a profession.
Tommy Franqluen says he wants to "go to the Olympics and have some fun!"
Still, academics come first -- the students have to maintain a 3.0 average or better to participate.
E-mail: abutterfield@ksl.com
×
Related links
Most recent Utah stories