Estimated read time: 2-3 minutes
This archived news story is available only for your personal, non-commercial use. Information in the story may be outdated or superseded by additional information. Reading or replaying the story in its archived form does not constitute a republication of the story.
Sam Penrod Reporting The future of Utah Lake is getting a boost today. A new commission was formed that will provide funding and a forum for everyone with an interest in the lake to get together to talk about it.
There has been an effort the last couple of years to get something like this together. Everyone involved believes it is the first step to giving Utah Lake a brighter future.
Utah Lake may be the biggest natural resource in the Utah Valley. It offers a lot scenic views, as you can see here from Chopper Five, but for decades there have been disagreements on a vision for Utah Lake's future.
Lewis Billings, mayor of Provo: "For years and years and years there have been groups that have had different views and differing thoughts to try and control, manage or affect this lake."
Water users and property owners have had disagreements with local and state governments about the lake.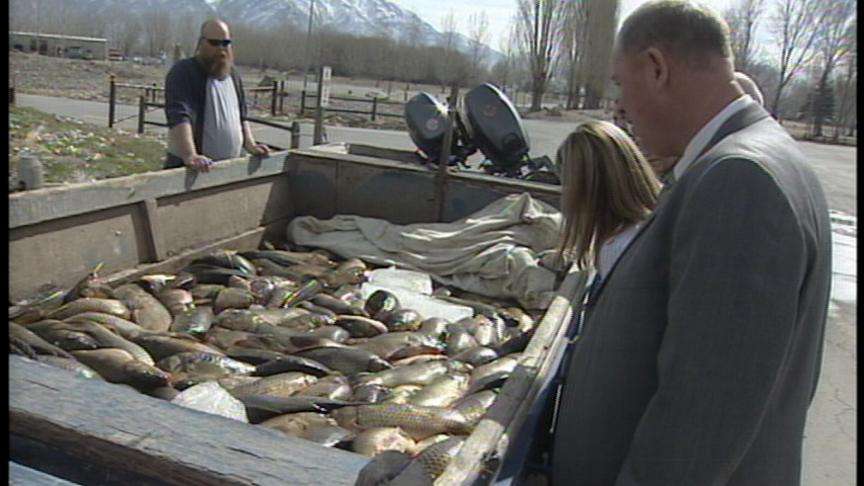 But today, the governor signed into law the Utah Lake Commission, which will bring everyone with an interest in Utah Lake together.
Jon Huntsman, Jr., governor of Utah: "Now we have an opportunity to sit around a table with a common sense of purpose and destiny and vision and leave a lasting legacy for a body of water that deserves it."
While Utah Lake is known as a water source and a popular recreational area, everyone agrees there is no greater threat than carp.
Lewis Billings: "The carp in this lake that were introduced in the 1840's, they have changed the very ecology of this lake."
It is estimated there are nearly 6,000,000 carp in the lake, which causes the water to be murky, but also competes with native fish, such as the June sucker. The goal is to eliminate 75 percent of the carp in Utah Lake.
Lewis Billings: "We're going to be able to let the lake heal itself and it is going to be able to come back naturally to be within what it should be, ecologically, and so it's that kind of action, decision and discussion that we believe will result from this effort."
To give you an idea of what it would take to remove 75 percent of the carp in the lake, here are some numbers: It would take five years and require 27,000 pickup truck loads to remove them. That means an average of 8,000 carp every day to remove 4.7 million of the fish. It's a big project but one people seem serious about.
×
Most recent Utah stories