Estimated read time: 2-3 minutes
This archived news story is available only for your personal, non-commercial use. Information in the story may be outdated or superseded by additional information. Reading or replaying the story in its archived form does not constitute a republication of the story.
TOOELE -- A pickup truck slammed into an apartment building in Tooele Sunday afternoon, causing extensive damage. Police have arrested two people and say drunk driving may be to blame.
Construction crews had their hands full Monday as the tearing-down process began on a building in the Gateway Apartments complex. Four units -- all of them occupied -- have been condemned following the accident.
"The patios just looked insane, and to see the truck in the building was really scary," said apartment manager Danielle Waggerby. "It's going to be expensive, for sure."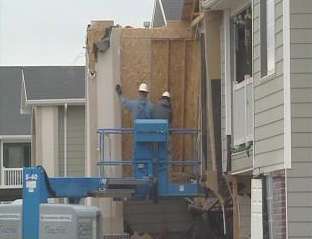 According to police, a driver going east on 1280 North in Tooele failed to navigate a corner, jumped over a curb, then went through a vinyl fence and into the building. Jessica Martinez's apartment was one of those hit.
"We heard this horrible noise. It was awful; the loudest crash you've ever heard," Martinez said.
Luckily, Martinez's son had just exited the room the truck ran into first. He was brushing his teeth.
"I was shaking so badly, I actually tried to call 911 with my camera," Martinez said.
When police arrived, they suspected the driver and passenger were drunk because of their behavior.
"The passenger was very belligerent with residents. as well as Tooele city officials," Waggerby said.
After further investigation, detectives said the truck was traveling way over the speed limit of 25 miles per hour at the time of the accident.
They arrested the driver, Daryl Bratcher, for a DUI crash. His passenger, Kevin Kilgore, was booked for public intoxication.
Police and the apartment manager are just happy no one was hurt, especially since there were kids outside on Sunday.
"[They were] riding bikes, scooters, whatever. There were quite a few people outside, so who knows? It could have been worse," Waggerby said.
All the renters affected by this crash have been moved to other apartments, but the damage was so bad one woman couldn't go in to her residence get her things.
The complex will start to rebuild and repair the damage on Wednesday.
------
Story compiled with contributions from Nicole Gonzales and Sandra Yi.
---
×
Most recent Utah stories