This archived news story is available only for your personal, non-commercial use. Information in the story may be outdated or superseded by additional information. Reading or replaying the story in its archived form does not constitute a republication of the story.
SALT LAKE CITY -- Investigators say a recently busted fake ID ring shows the crooks are getting more sophisticated and possibly tying in to more violent criminals.
Four people were arrested last week as part of an ongoing investigation. Chief investigator for the Utah Attorney General's Office Ken Wallentine said some of the IDs they were selling were good.
"It's an art, frankly, and there were some artists at work," he said.
Wallentine said the Utah driver licenses they recovered were easier to identify as fakes than were some out-of-state licenses and resident alien cards.
"They did their homework. Somebody obviously taught them how to do this," Wallentine said. "The level of sophistication of these folks both in how they operated their fraudulent ID ring, and the equipment, and just really the skills that they showed in creating fraudulent documents, I grudgingly admire it."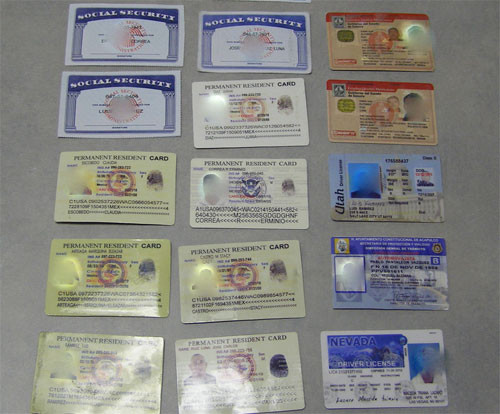 Wallentine said they went as far as to duplicate laser etched watermarks and foil seals.
Authorities arrested 43-year-old Jesus Efren Ruiz-Luna, 39-year-old Alfonso Ruiz-Luna, 50-year-old Jose Carlos Ruiz-Luna and 30-year-old Polaris Coronado following a weeks-long investigation.
Wallentine said they actually got tips from some people in the Latino community where the group was operating by advertising their names on the backs of other people's legitimate business cards and circulating them through the community.
Agents were able to purchase a handful of fake IDs, including driver licenses, Social Security cards and resident alien cards. Wallentine said the group could make quite a profit, selling some IDs for as much as $300.
"The intent here is to provide an identification that the criminal can use for a variety of reasons," Wallentine said.
But Wallentine's concern goes beyond the level of quality of the fake IDs.
"We have some great concern that some of the violent gang elements in the illegal community are the same people that are facilitating fraudulent document creation," he said.
The four men are facing 21 charges each; three of them are in the United States illegally and are also facing deportation back to Mexico. The fourth man had paperwork to be here but will now also face deportation if he is convicted of these felonies.
------
Story compiled with contributions from Marc Giauque and Alex Cabrero.
×
Photos