Estimated read time: 7-8 minutes
This archived news story is available only for your personal, non-commercial use. Information in the story may be outdated or superseded by additional information. Reading or replaying the story in its archived form does not constitute a republication of the story.
KSL Team CoverageA clash of principles today as President Bush passionately defends his plan for Iraq at the same time thousands of Utahns join to protest the war. In his second visit to Utah as President, George W. Bush revived some familiar themes about the war. He is taking a hard line, reminding America why we're there and why we're staying.
"The lesson of September 11, 2001, is that we must confront threats before they materialize," he said.
In his speech at the Veterans of Foreign Wars convention the President said, "We are still not safe from terrorists."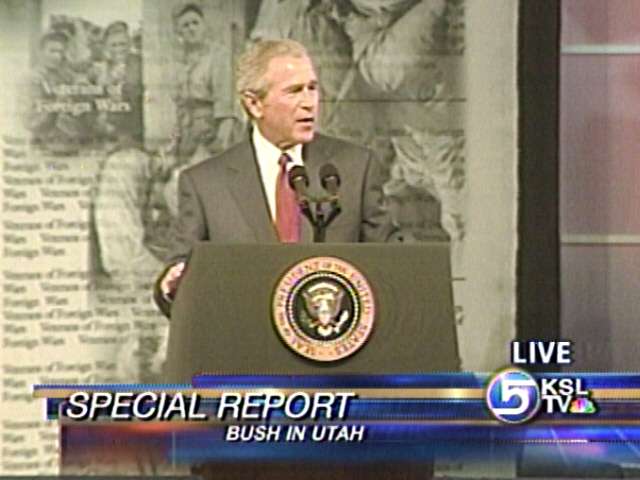 The President could not have picked a more receptive audience, nor a more friendly state to remind America why 138-thousand troops are still in Iraq, why we're still at war after two and a half years. Thousands of Veterans of Foreign Wars gave the President and First Lady a standing ovation. For many of them it seemed natural to get a pat on the back from a commander in chief who is now facing lagging support for the current war.
"On behalf of a grateful nation, thank you for your service for the cause of freedom and peace."
The themes of freedom and peace are the foundation of the President's speeches across the nation this month. Invoking 9-11, the on-going terrorist threat, and the need for an offense overseas, Bush reminded the crowd why it will be awhile before the troops come home.
President Bush: "After September 11. 2001, I promised America will not wait to be attacked again. We will go on the offense and defend our freedom."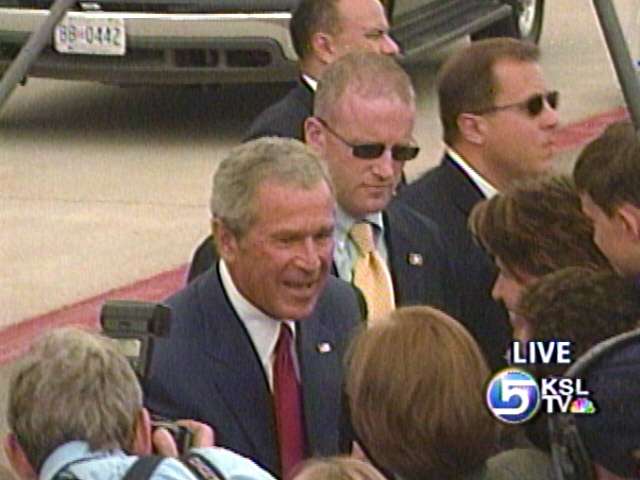 The President also repeated his triple strategy: Protect the homeland, take the fight abroad, and advance the cause of world freedom. But his speech lacked specifics, leaving questions for Utah Democrats.
Rep. Jim Matheson, (D) Utah: "This situation isn't going away in the near term. There are going to be some tough decisions we're going to have to make, and I hope our troops can get out of there as soon as possible."
Rob Miller, Utah Democratic Party Vice-Chair: "I think the American people are bright enough and smart enough to figure out for themselves how they feel about the war."
The President also put in political plugs for Congress to renew the USA Patriot Act and for the Senate to approve the Flag Burning Amendment. And he pointed out the increased billions of dollars that are being spent for veterans benefits in his administration.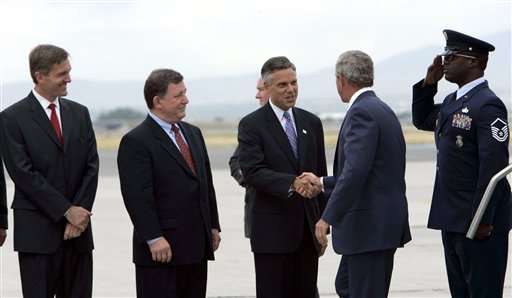 A Brigham City man was among the first to greet the president after he stepped off Air Force One. The president not only shook Willie Hunsaker's hand, he handed the veteran the Volunteer Service Award.
Hunsaker makes more than 100 crosses a year to place on veterans' graves, places flags on gravesites for Memorial Day, and helps with the presentation of military honors at funerals in Northern Utah. And that's not all. In his spare time, Hunsaker teaches flag etiquette at elementary schools and also volunteers with Meals on Wheels.
Hunsaker is a veteran of World War II.
While the President spoke, two thousand people or more gathered for the largest pro-peace rally since the war started, and it was a pretty diverse crowd.
It was a cross-section of the community. There were parents of soldiers, Veterans for Peace, professional and students, from every walk of life. They all believe in the pro-peace movement is growing. These Utahns may be among the minority. They raised their voices and horns today. About two thousand strong, they speak out in a state in which they believe their opinions are overshadowed.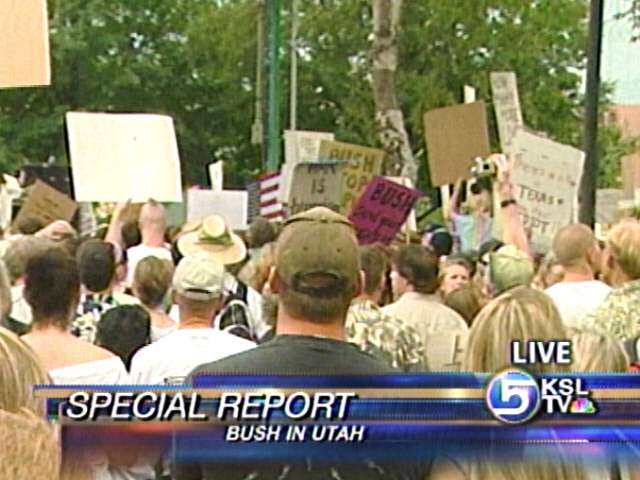 Mayor Rocky Anderson rallied the crowd and called it one of the healthiest signs of a democracy.
Rocky Anderson, Mayor of Salt Lake City: "We will continue to speak out with the growing ranks in this country finally willing to stand up and say, 'We're not going to take it any more.'"
Celeste Zappalla's son died in Iraq and she vowed to work to end the war.
Celeste Zappalla: "It is a betrayal of the nobility of the military and the democracy they are charged to protect. I have been trying to speak that truth for the past 16 months."
The Philadelphian co-founded Gold Star Families for Peace with Cindy Sheehan, the woman encamped at the gate of the President's ranch.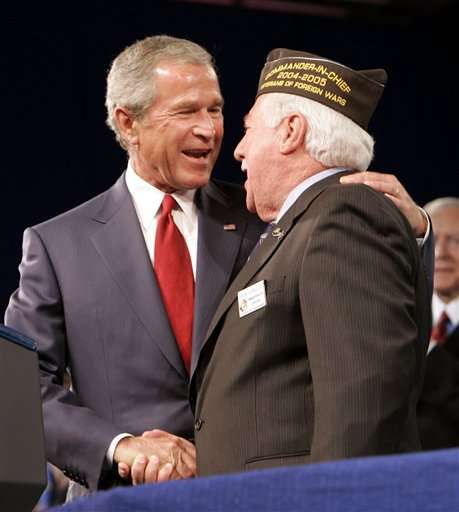 Celeste Zapppala, Gold Star Families for Peace: "This policy is a disaster, we can no longer pretend it is working. Three more soldiers died overnight. It has to stop."
Aaron Smith was a military officer in the 80's and 90's; now he's a Veteran for Peace.
Aaron Davis: "We support the troops, and we want them home right now, and we want them treated right when they get here."
Dr. Warner Woodworth's son is deployed. As a professor in Provo he knows his opinions go against the flow.
Dr. Warner Woodworth, Peace Protestor: "I'm coming to speak from all of those conservative worlds that disagree with the immorality and disagree with the pre-emptive logic about this war."
We talked with a lot of people today. Most agreed the situation is complex, most support the troops, most want the administration to find a way out.
President Bush wasn't the only one protested today. A crowd gathered outside the Salt Palace to speak out against Mayor Rocky Anderson.
Protester: "You don't deserve to be in there with the honored men of America. Have some decency. Have some decency Mayor Rocky. Shame on you. Shame on you. Shame on you Mayor Rocky Anderson."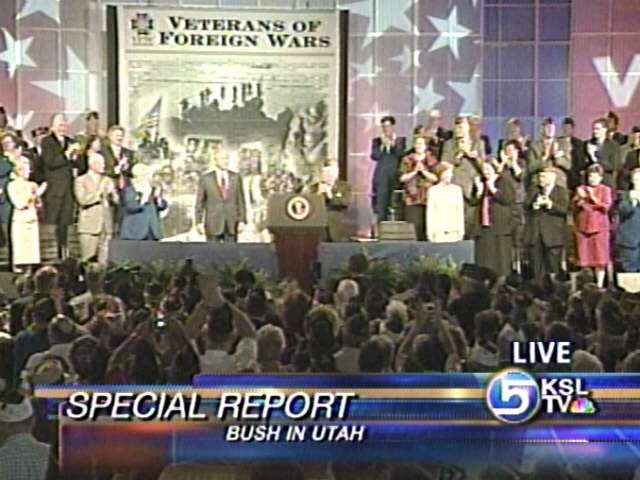 The mayor sent emails last week encouraging local activists to protest the President and the war. He even attended the weekly Liberty Park drum circle to recruit protestors and discuss plans for the demonstration.
There were some exciting moments for those who got to see the President arrive. Air National Guard members snapped photos and spectators waived flags. Between 100 and 150 watched eagerly as Air Force One landed.
The President arrived at the Utah Air National Base a few minutes ahead of schedule and he left about a half hour early. But before his departure, there were a couple of surprises. Senator Orrin Hatch hitched a ride on Air Force One, walking out with the President and First Lady. He had some strong words about Mayor Rocky Anderson's decision to protest the President.
When asked what the senator though of those people who said, "Shame on you Rocky", he said, "I think they were right. As much as I like Rocky personally, he shouldn't have done that. You don't do that to the president of the United States. You don't do that when you're trying to attract conventioners here."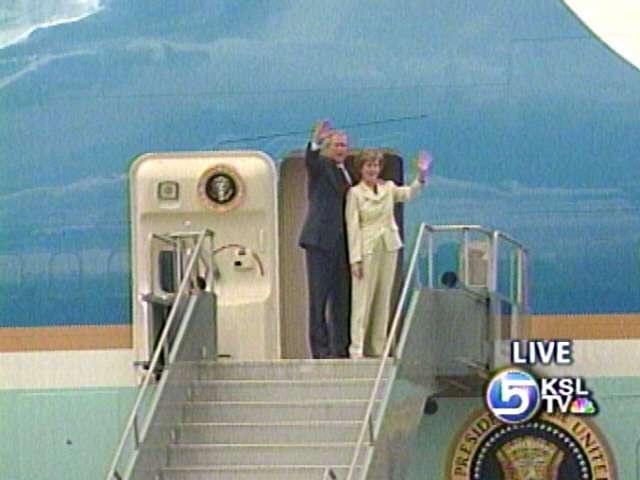 Moments after that comment, Senator Hatch made it clear how he feels about today's protestors, some of whom have lost loved ones in Iraq.
Senator Hatch: "You're always going to have nutcakes out there no matter what you do."
Hatch felt President Bush handled himself well. His supporters were thrilled to see him. Some even took a tour of Air Force One while the President was speaking. To see it land is one thing, but imagine going inside.
LuKaye Weaver, Air Force One Visitor: "It's exciting to know I've walked where Condoleeza Rice and the President have been. Wow, you know, that's super."
Two spectators made their entrance after the President made his exit. Inevitably, there were a few surprises. "They have 87 phones. He can call anywhere, anytime."
Seeing it from the vantage point we could not. And for those fortunate enough, there were even some souvenirs.
"The president has red, white, and blue M&Ms in here, plus they're signed."
So how do you get an on a plane so many are typically trying to keep you away from?
"My brother is ground security, advanced ground security for the president."
Ah yes, it's all about who you know.
Some things you may not know about Air Force One -- it can reach a speed up to 630 miles per hour, almost Mach One; and the plane's length is 231 feet, about two-thirds the size of a football field.
After leaving Salt Lake, President Bush landed in Idaho Monday night. He'll stay at a resort in Donnelly for a couple of days. The president plans another anti-terrorism speech Wednesday in Nampa, Idaho.
×
Related links
Most recent Utah stories