Estimated read time: 2-3 minutes
This archived news story is available only for your personal, non-commercial use. Information in the story may be outdated or superseded by additional information. Reading or replaying the story in its archived form does not constitute a republication of the story.
SALT LAKE CITY -- A toddler pronounced dead on arrival at the hospital two weeks ago, headed home Friday. The boy technically drowned in a bathtub but battled his way back thanks, in part, to a specialized procedure used by only a handful of hospitals.
Sixteen-month-old Bronson Staker spent nearly two weeks in the hospital, most of that time in a coma on life support.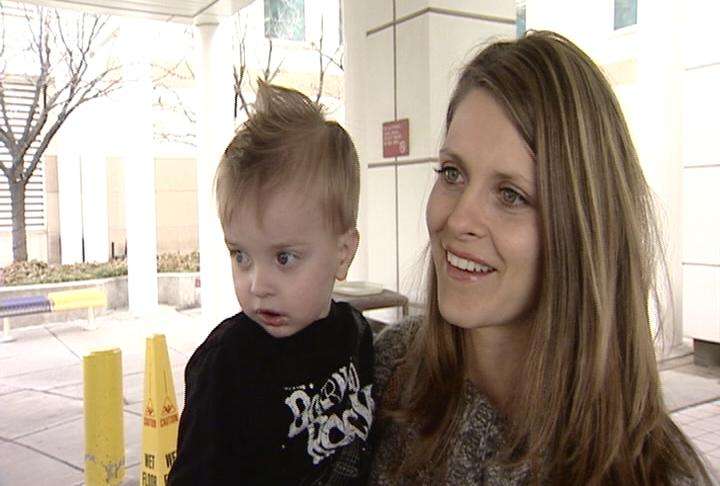 Bronson's mother, Sara Staker, found him lifeless in the bathtub Jan. 30. When he arrived at the hospital, he had no pulse and was not breathing.
"It's just amazing, and we're so grateful to everyone for their love and support and outpouring of faith," Sara said. "We're just thrilled to have a second chance to be Bronson's parents."
Bronson was in cardiac arrest, and doctors enrolled him in an ongoing study of therapeutic hypothermia. That procedure protects tissues of vital organs, lessens the risk of brain damage and gives cardiac arrest victims a better chance at survival.
In the study, some kids' bodies are cooled down to about 91 degrees; others are left at their normal temperature. Doctors at Primary Children's Medical Center and 14 other hospitals are studying the procedure and won't know its effectiveness for a year.
"We are looking at whether total body cooling after cardiac arrest in children improves outcomes, which are assessed by some neurodevelopment testing 12 months after the arrest," explained Dr. Kim Statler, who works in the pediatric ICU at Primary Children's.
What is ... Therapeutic hypothermia?

If the heartbeat is restored, but a child remains in a coma, physicians at Primary Children's Hospital and 14 other medical centers can use cooling blankets to drop the body temperature to 32 to 34 degrees Celsius. The patient remains at that temperature for three days. Then rewarming over 16 hours will bring it back up to normal, where it will stay for 120 hours.
One thing doctors are sure was effective: Bronson's mother performed CPR right away.
"If I had to put money on what made the biggest difference, I'm going to guess it was CPR right away," Statler said.
Thirty patients nationwide are now part of the study.
"It's a chance to see whether a therapy that we think should work, actually makes a difference," Statler said.
The Stakers say they learned a lot about parenting waiting for Bronson to recover.
"Paying attention to the things that are most important; letting the little things go; being patient and a little more diligent, a little more willing to love and be loved," Sara said.
While the results of the study won't be available for more than a year, doctors are optimistic about Bronson's long-term recovery.
E-mail: jboal@ksl.com
×
Photos
Related links
Related stories
Most recent Utah stories