Estimated read time: 3-4 minutes
This archived news story is available only for your personal, non-commercial use. Information in the story may be outdated or superseded by additional information. Reading or replaying the story in its archived form does not constitute a republication of the story.
SALT LAKE CITY (AP) - Lawmakers moved quickly Friday to place a ban on affirmative action in the Utah Constitution, despite little evidence the practice is being used or has caused problems.
A resolution that would prevent local governments, state agencies and public colleges from discriminating or providing preferential treatment based on race, sex, color, ethnicity or national origin sailed through a legislative committee only two days after it was made public.
To amend the constitution, the resolution would have to be approved by a two-thirds vote in the state House and Senate and be signed by Republican Gov. Gary Herbert. Voters also would have to approve the measure this fall.
The proposal is likely to have little trouble getting the necessary votes for passage in the GOP-dominated Legislature.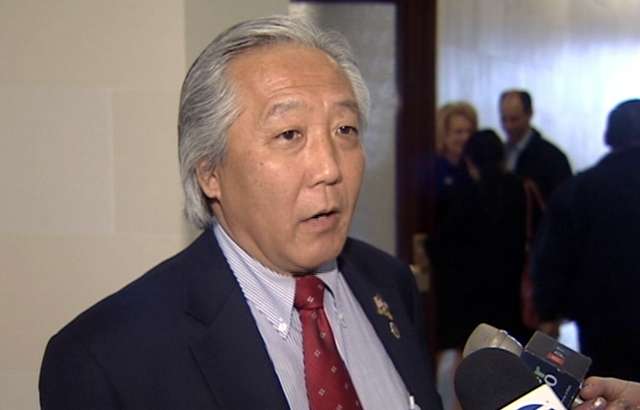 A House committee approved the measure known as House Joint Resolution 24 with a 10-4 vote Friday. The full House will likely vote on it next week.
The legislator proposing this measure is Rep. Curt Oda, R-Clearfield, a Japanese American. He is part of a national movement who feels it's time to nullify affirmative action.
Shortly after most in this House committee voted to advance a ban on affirmative action, the head of the Hispanic caucus asked Oda how he could, quote, "shove this down our throats."
Tony Yapias of the Hispanic caucus told Oda, "Your family has been discriminated against just as mine has."
Oda's reply: "But I don't go looking for it."
Oda is adamant that reverse discrimination is worsening the very racial divide affirmative action was meant to address. This measure evens the playing field, he says.
"If we could just make it equal all the way across so everyone is treated fairly, it will start diminishing a lot faster," he said.
Opponents said there was little time to seek public input about the proposal.
"To pull this bill out two days ago, and ram it down the throats of this community, is awful. I can't explain how disappointed I am," said Rep. Jackie Biskupski, D-Salt Lake City. "This is big, and it deserves public input."
What is... affirmative action?
Affirmative action is the set of public policies and initiatives designed to help eliminate past and present discrimination based on race, color, religion, sex, or national origin.
"We need to have a discussion among grassroots community of individuals who would be most affected by this constitutional amendment before it comes to our committee," said Rep. Brian King, D-Salt Lake City. "This is not an adequate fact-finding context."
Jeanetta Williams, president of the NAACP Salt Lake Branch, said she wasn't made aware of the proposal until Thursday night.
"He's trying to kind of do it in a backdoor approach, which I find very offensive," Williams said.
Democrats tried unsuccessfully to delay the measure by suggesting it undergo study during the summer.
Republicans said they want to pass the measure while Ward Connerly, a former member of the University of California Board of Regents who has worked to pass similar legislation in other states, was in town to testify for the bill.
"The implication is that those of us who are ... minorities cannot compete and therefore society has to bestow its benevolence," Connerly, who is black, told lawmakers. "Sometimes we don't realize that's a double-edge sword. We demean people."
Connerly was joined by Jennifer Gratz, who successfully sued the University of Michigan for denying her admission, saying she was put at a disadvantage because she wasn't a minority.
14th Amendment to the U.S. Constitution
Section 1
All persons born or naturalized in the United States, and subject to the jurisdiction thereof, are citizens of the United States and of the state wherein they reside. No state shall make or enforce any law which shall abridge the privileges or immunities of citizens of the United States; nor shall any state deprive any person of life, liberty, or property, without due process of law; nor deny to any person within its jurisdiction the equal protection of the laws.
"Many of our universities, many of our government agencies use these similar policies for college admissions, public contracting, and employment. And I think that's wrong. People should be judged by their merit and character, not their skin color or sex," said Gratz.
Senate President Michael Waddoups, R-Taylorsville, said the measure will help ensure Utah colleges don't discriminate.
"We're not getting necessarily the most qualified students there because of the quota system," Waddoups said.
Kay Harward, University of Utah senior associate vice president for enrollment management, said minorities don't get any preferential treatment when it comes to admission.
State agencies also have policies in place that prevent them from giving preferential treatment when it comes to hiring or promotions.
------
Story compiled with contributions from Richard Piatt and the Associated Press.
×
Related links
Most recent Utah stories