Estimated read time: 2-3 minutes
This archived news story is available only for your personal, non-commercial use. Information in the story may be outdated or superseded by additional information. Reading or replaying the story in its archived form does not constitute a republication of the story.
John Hollenhorst Reporting If you live in Utah County, you have just enough time to throw on a coat and head over to Lone Peak High School. In a few minutes there will be a downbeat, a blast of brass and a fund-raising concert by a high school band that's definitely going places.
They're brassy, they're bouncy, and they're ready to hit the road.
Ryan Krueger, lead trumpet: "I'm super excited. It's a super opportunity for us."
The Lone Peak High School Jazz Band is headed for California. Out of hundreds of bands around the country, they're among 12 finalists competing later this month in Monterey.
Ryan Krueger: "If we make the top three, then we get to play at the Monterey Jazz Festival later in the year. That's what we're aiming for. But we're excited either way."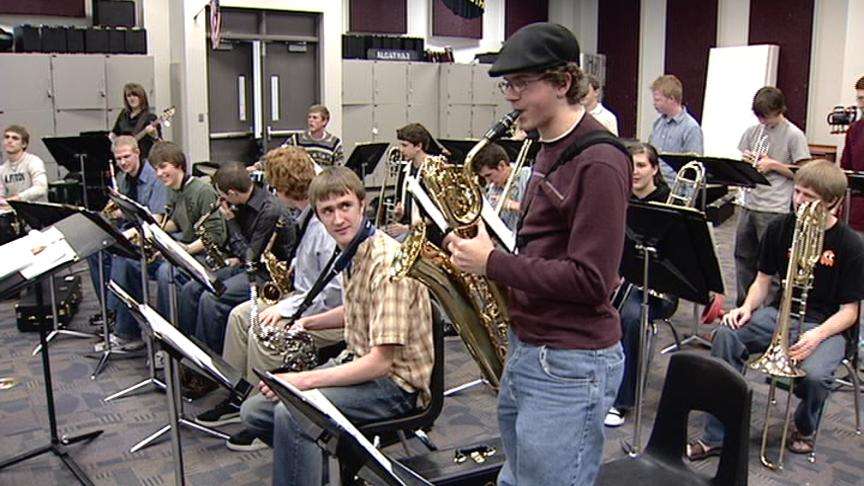 They recorded a CD and sent it to a panel of judges at another prestigious institution, the Berklee College of Music in Boston.
Curt McKendrick, band director, Lone Peak High School: "And their faculty picks the top 12. And the fact that the band made it there puts them in a very elite group."
A lot of people may not have noticed. Lone Peak High is on a real high this week since the boy's basketball team won a state championship.
Rhonda Bromley, assistant principal, Lone Peak High School: "And there's a lot of hype that goes around that, a lot of press, which they deserve. They work really hard. But a lot of times the fine arts don't get that attention. Here we have one of the top 12 jazz bands in the whole nation."
Video by Rick Stout: "Monterey's one of the big jazz festivals. I was like, whoaaah! Not too many high schools get to go. So it's a big deal."
The trip to California will give them a chance to strut their stuff with top bands from around the country.
Josh Birch, baritone sax: "It's a pretty big deal to me,especially being a senior -- get to go out on a high note."
They will be rattling the rafters, from Highland to Monterey. The fundraiser to help pay for their trip begins just a few minutes from now. It's at 7 p.m. at the Lone Peak High School Auditorium in Highland.
×
Photos
Most recent Utah stories