Estimated read time: 2-3 minutes
This archived news story is available only for your personal, non-commercial use. Information in the story may be outdated or superseded by additional information. Reading or replaying the story in its archived form does not constitute a republication of the story.
Sam Penrod ReportingTwo serious wrecks happened at the same place on 700 East in Salt Lake City Monday.
Monday night when Sam Penrod went to the second wreck, he found it was in the same location as a crash Monday morning. So he started asking questions.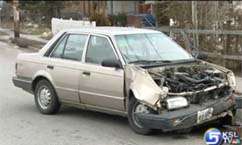 Two crashes in the same place on the same day. It may seems like a coincidence, but some neighbors insist accidents happen at 700 East 2900 South all the time. Now they are pleading with people to be more careful.
One man should be in the hospital instead of filling out a police report. That's according to witnesses who saw him crash on 700 East Monday night.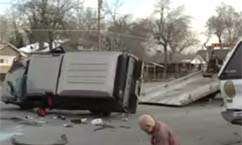 Virginia Beane, witness: "Just saw the truck totally run into the other like he didn't even see her, and he immediately flipped on the side. I can't believe he walked away. It's a miracle."
This is the second miracle Virginia Beane witnessed on Monday.
The first one was in the morning when a van with four young children inside crashed. The driver ran over her fence and crashed into the side of her house. She had just arrived at work when someone called to tell her what had happened.
Virginia Beane, witness: "I actually got on KSL.COM, and when I saw how close the van came to my house, I freaked out. I was like, 'Nobody's come that close to our house before.'"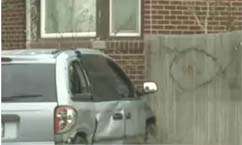 Neighbors insist the wrecks are the result of motorists driving 700 East like an expressway rather than a residential street.
Julie Lomax, resident: "We have a sign out here that says 'Speed limit 45.' But people always go at least 50."
For parents with young children, seeing another accident gives them another reason to worry.
Julie Lomax: "Slow down. Be more careful, because somebody is going to get hurt. If it's not one of your children, it's somebody else's."
While the residents know they live on a busy street that just keeps getting busier, they believe if drivers will take it a little easier on their road, it will be safer for everyone.
Lawney Wartenbe: "Drive the speed limit. Be a little more cautious. Use their blinkers. Be a little more courteous, that's the big thing."
The young children who were hurt in Monday morning's wreck were taken to the hospital. We are told they are all going to be OK.
×
Most recent Utah stories